Meet the men who convert trucks into colourful canvases
Updated on Apr 20, 2015 07:50 PM IST
"Trucks are my canvas. The designs, motifs and symbols on trucks reflect the changing times," says 68-year-old Dhir, one of the oldest and most celebrated truck artists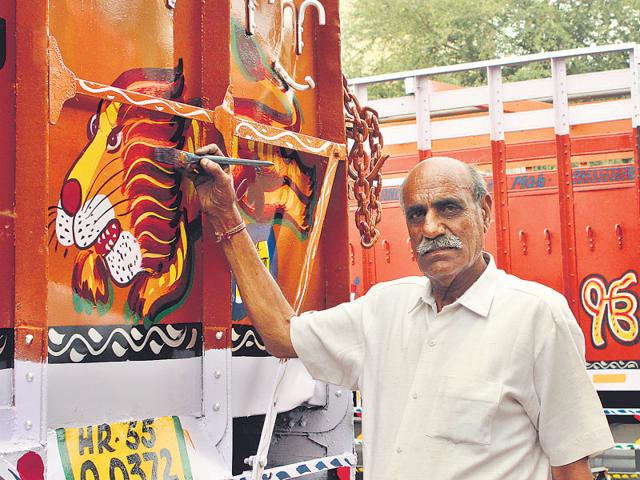 The Indian trucks are moving canvases.
If you could forget about their massive, intimidating size on the road for a moment, quirky slogans, colourful designs, human and animal figures and interesting graffiti are things that catch the eye.
And if you spot such art on a truck in Delhi NCR, it is quite likely that it is the work of Tilak Raj Dhir.
Dhir, 68, is one of the oldest and most celebrated truck artists in Transport Nagar in the capital. In fact, he has been practicing truck art since 1966—when he was a teenager. Dhir, better known as 'chacha', considers his work fine art.
"Trucks are my canvas. The designs, motifs and symbols on trucks reflect the changing times," he says.
"What baffles me is that most drivers nowadays don't want the classic 'horn please' anymore. I guess it gets them trouble from the police as it encourages honking. But thankfully 'keep distance' still remains a popular choice," says Dhir.
Dhir says slogans on trucks reflect the changing socio-political atmosphere in the country. "In the 1960s, I painted slogans such as 'jai jawan jai kisan' and in the 1970s I painted 'ham do hamare do' which was popular during the Emergency."
Dhir says in the 1980s, Appu – the mascot of the Asian games-- was the most popular motif on trucks.
Painting birds and animals is Dhir's speciality. The charges range between R150 for a cow and lion and R50 for an eagle, which is one of the most popular figures.
Truck art has been a subject of research for various art scholars around the world. Dhir, who admits having not attended school, says it reflects the religious and emotional viewpoint of the driver.
As we talk to Dhir, his assistant, Veeru, butts in, "Some of the motifs drivers want us to paint also reflect their longing for home. They often ask me to paint a demure woman with messages such as 'Ghar kab aoge'. You see a lot of them are away from home for months."
Dhir says drivers are getting more demanding. "They want us to try more colourful and varied fonts," he says, adding, "Transporters want us to write the name of their company , and sometimes those of their children."
Dhir regrets that his son gave up truck art to become a transporter. "But I shall continue till my last breath even though it is becoming difficult with the advancing age," he says.
Veeru says many drivers want verses from Hindi poems. "But the problem arises when they ask me to write lines from the Gayatri Mantra. I am illiterate and almost never get it right," he says
Among the Bollywood titles 'Mere Hamsafar', 'Ham Hain Rahi Pyar Ke' that denote journey are one of the most common choices of drivers, he says. "After all, road is where they spend a large part of their lives."
Close Story
Personalise your news feed. Follow trending topics