Srinagar: Non-Kashmiri students of NIT clash with police, CRPF deployed
Non-Kashmiri students studying at NIT Srinagar alleged on Tuesday that the police used force after they tried to move out of the institute enmasse during a protest demonstration.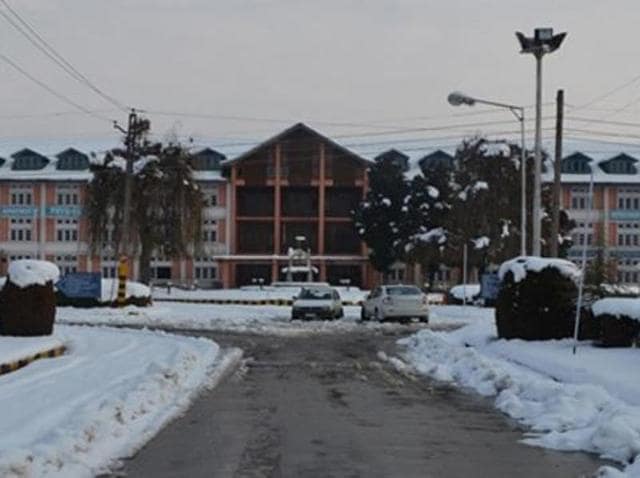 Updated on Apr 06, 2016 12:11 PM IST
Hindustan Times |
, Srinagar
Ashiq Hussain and Abhishek Saha
Hundreds of non-local students at Srinagar's National Institute of Technology alleged that state police kicked and punched them when they tried to walk out of the institute premises late on Tuesday.
Following the incident, two companies of CRPF were deployed in the campus.
The non-local students have been boycotting classes since Monday after clashes with Kashmiri students who celebrated West Indies' victory over India in the World T20 semi final on March 31. This led to tension in the institute with the non-locals alleging "anti-national" sentiment among the Kashmiris.
"When non-Kashmiri students tried to go towards the main gate and talk to the media personnel, the policemen started hitting them. The beating was severe. Some were hit with rifle butts too," a final year undergraduate student said.
"The attitude of the state police is really bad. They resorted to violence just like that."
CRPF deployed at NIT Srinagar campus after police lathicharge students
But police said they were compelled to use mild force after the students assembled in the afternoon and tried to move out on the main road.
"Despite repeated requests they were adamant to move out on road. That is why we tried to push them back and used mild force," said Abdul Majid, station house officer of Nigeen police station.
"We all know the situation in Kashmir and in this scenario their protest on road was fraught with danger," Majid said.
He said the students were very charged and even misbehaved with police officials who were trying to convince them to move back.
But non-local students dismissed this claim, saying that a group of non-Kashmiri students had a meeting with the NIT director in the evening, after which they started walking towards the main gate to talk to media.
A student also said internet has been cut-off by the administration in hostels.
The protesting students have also come up with a host of demands in this regard.
Deputy chief minister Nirmal singh said there was mild lathicharge when NIT students tried to move to the gate to meet the media.
Officials said two companies of CRPF have been deployed in NIT Srinagar.
"We assure security to the students of various states of the country studying in NIT Srinagar. Additional security of CRPF has been deployed at the campus," Deputy Chief Minister Nirmal Singh told PTI.
Union home minister Rajnath Singh also called up Jammu and Kashmir chief minister Mehbooba Mufti and discussed with her the situation at NIT.
"Spoke to J&K CM Mehbooba Mufti ji regarding situation in NIT, Srinagar. She has assured me to look into the issue and take immediate action (sic)," Singh tweeted.
Close Story