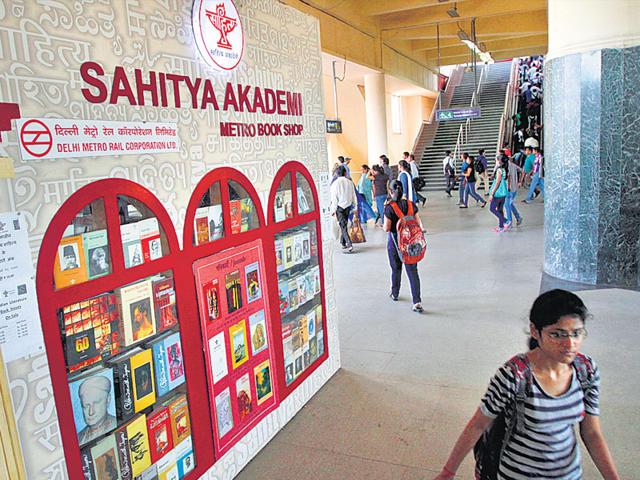 Now, six more writers return Sahitya Akademi awards
Three Punjabi writers and two other eminent authors -- one from Gujarat, another from Delhi -- announced on Sunday they will return their Sahitya Akademi awards to protest against the government's "onslaught on freedom of expression".
Hindustan Times | By HT Correspondents
UPDATED ON OCT 12, 2015 01:52 AM IST
Three Punjabi writers and three other eminent authors -- one each from Gujarat, Delhi and Karnataka -- announced on Sunday they will return their Sahitya Akademi awards to protest against the government's "onslaught on freedom of expression".
Playwrights Ajmer Aulakh and Atamjit and Canada-based Waryam Sandhu joined the dissenters in the literary fraternity who have either surrendered their coveted awards or quit the Akademi in protest against what they said "rising intolerance" in the backdrop of the murders of noted rationalists as well as the Dadri lynching incident.
Delhi-based Aman Sethi said he too was returning the Sahitya Award he got in 1993 as the "spirit of inquiry is clearly under threat". Ganesh Devi, a leading author from Gujarat and a tribal rights activist, joined him. Delivering another blow to the Akademi, Kannada writer Aravind Malagatt resigned from the body's general council on Sunday.
Many in the literary fraternity have of late raised their voices against the murders of Kannada writer and Sahitya Akademi Award winner MM Kalburgi and anti-superstition activists Narendra Dabholkar and Govind Pansare -- both from Maharashtra, questioning the government the Akademi's silence.
The lynching of a Muslim man in Uttar Pradesh's Bisada village by a mob following rumours that he slaughtered a calf and ate beef has also triggered a wave of protests.
Karnataka's Kum Veerabhadrappa, who will also return his award, said: "I'm doing this condemning the killings of Narendra Dabholkar, Govind Pansare and MM Kalburgi, and Akademi's silence on the issue; also against Dadri lynching."
Veerabhadrappa had won the Sahitya Akademi award in 2007 for his book 'Aramane'. He has also authored an autobiography, 'Gandhi Classu'.
"The great idea of India is based on a profound tolerance for diversity and difference. They far surpass everything else in importance. That we have come to a stage when the honourable Rastrapatiji (President Pranab Mukherjee) had to remind the nation that these must be seen as non-negotiable foundations of India should be enough of a reason for the Sahitya Akademi to act," Devi said in a letter to Sahitya Akademi president Viswanath Pratap Tiwari.
Talking to HT, Aulakh said: "Drama is the highest form of human expression. When the government is ruthlessly suppressing freedom of expression, how can a playwright identify himself with such awards?"
"Art is under threat and I have decided to return the award in these dark times," the Mansa-based writer said.
Read: Nehru's niece returns Akademi award, slams 'dangerous Hindutva'
For his part, Atamjit said he "is very upset over the incidents communal hatred in the country for the last some months".
"It's shocking for me to see that a democratic country such as India has turned so intolerant. People with democratic thinking such as Kalburgi and Dabholkar have been killed and our government has shown no concern to catch their murderers," Atamjit, who received the award in 2007, said.
Their move came a day after Punjabi writer Gurbachan Bhullar said he too will return his award. Bathinda-born Bhullar, who is now based in Delhi, bagged the Sahitya Akademi Award for his 2005 book of short stories "Agni-Kalas".
Bhullar said attempts were being made to disrupt the social fabric of the country. "People from the fields of literature and culture are being targeted in an orchestrated manner. This is disturbing me."
Kannada writer Malagatti, who joined Shashi Deshpande as the second literary figure from Karnataka to snub the Sahitya Akademi, he said he was "shocked" at the silence of the country's premier literary body over the killing of Kalburgi. Malagatti's most acclaimed text is called Brahmana.
In the face of protests, Akademi president Tiwari came out with a statement saying the apex literary body stands for freedom of expression and condemns attack on any writer or artist anywhere. It asserted its commitment to the "core secular values" enshrined in the Constitution and the "right to life of all".
On Saturday, eminent Malayalam writer Sarah Joseph and Urdu novelist Rahman Abbas too announced they will return the Sahitya Akademi awards and the Maharashtra State Urdu Sahitya Academy award, respectively.
On the same day, Malayalam writers K Satchidanandan, PK Parakkadavu and KS Ravikumar quit their posts in the Akademi in protest against the murder of Kalburgi in Dharwad.
Earlier this week, eminent writer Nayantara Sahgal and former Lalit Kala Akademi chairperson Ashok Vajpeyi had returned their Sahitya Akademi Awards to protest the "assault on right to freedom of both life and expression" in "growing intolerance" in the country.
Noted Hindi writer Uday Prakash was the first to return his Sahitya Akademi award to protest Kalburgi's murder.
Read: Now, Ashok Vajpeyi returns Sahitya Akademi award, slams PM Modi
Close