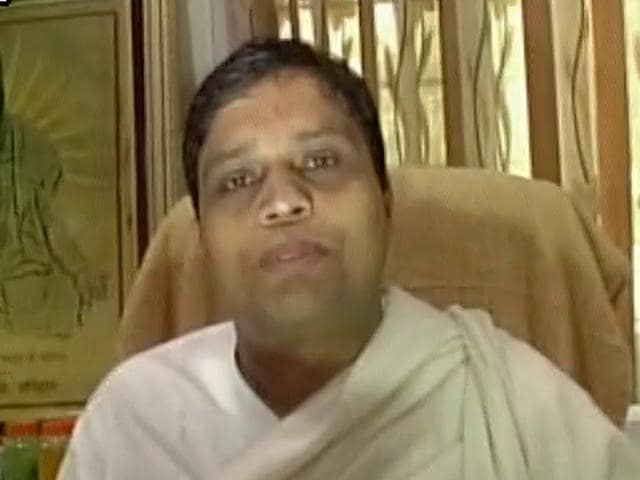 Only 5 of 800 Patanjali products have cow urine: Ramdev aide on fatwa
Yoga guru Ramdev's Patanjali said on Wednesday it never concealed information about products that contained cow urine, a day after a Tamil Nadu-based Muslim organisation issued a 'fatwa' saying the ingredient was considered 'haram' (forbidden) in Islam.
UPDATED ON DEC 31, 2015 01:53 PM IST
A day after a Tamil Nadu-based Muslim organisation issued a fatwa against Baba Ramdev's Patanjali products because they allegedly contain cow urine, the ayurveda company issued a firm rebuttal to the claim.
Reacting to the allegation at his Haridwar ashram on Wednesday, Patanjali Ayurveda managing director Balkrishna said: "We manufacture around 700 products, but use cow urine only in five. It seems some people are working against Patanjali… they are using false facts to defame us."
The Tamil Nadu Thowheed Jamat (TNTJ) had said on Tuesday that cow's urine, which is 'haram' for Muslims, is used as a key ingredient in Patanjali products. However, Balkrishna countered the allegation by stating that only five products made by the firm – Godhan Ark, Sanjivani Vati, Panchgavya Soap, Kayakalp Oil and Shudhi Phenyal – contain cow urine. While Sanjivani Vati is used in the treatment of chronic fever, cold and cough, Panchgavya soap is said to cure skin ailments.
Over the last few years, the annual turnover of Patanjali products has reached Rs 2,000 crore. Besides medicinal products, the firm also manufactures consumer goods such as snacks, cosmetics and toiletries.
Though ayurveda firms such as Patanjali swear by the goodness of cow urine, experts in the field aren't as sure. Dehradun-based Ayurveda doctor Vaidya Balendu went as far as to claim that, till date, not a single study has spoken of its role in curing any disease. "There is an entire chapter on urine in the Ayurveda. It mentions eight kinds of urine – including that of cow, goat and elephant," said Balendu, adding that rampant marketing of just cow urine is misleading people to a large extent.
In 2008, Ramdev's pharmacy inked a deal with the Uttarakhand government for procuring 5,000 litres of cow urine every month. According to sources in the animal husbandry department, more than 1.5 lakh litres of the same – at an average of 3,000 litres per month at Rs 25 per litre – have been supplied to it till now.
Ramdev had earlier claimed that the urine of desi cow varieties was capable of curing many kinds of diseases, including cancer. Consequently, the erstwhile BJP government in the state gave its nod for setting up a cow research institute at Rishikesh. The institute is yet to constructed.
According to the last animal census, Uttarakhand has as many as 18 lakh cows of indigenous breeds.
Close