Our noodles safe, have followed all food safety rules: Patanjali
Nov 18, 2015 08:28 PM IST
Patanjali Ayurved on Wednesday said it has not committed any violation amid reports that the FMCG venture promoted by yoga guru Ramdev had not obtained mandatory product approval from Food Safety and Regulatory Authority of India (FSSAI) for its instant noodles brand.
Central food safety regulator FSSAI on Wednesday said yoga guru Baba Ramdev's Patanjali Ayurved did not have an approval for its instant noodles, but records show the company did not violate any food safety norms.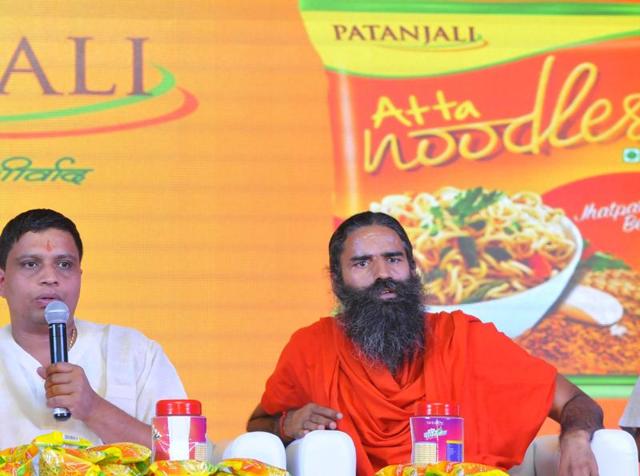 "For instant noodles, companies need to take prior approval...Patanjali Ayurved has approvals for other products but they don't have approval for instant noodles, " Food Safety and Standards Authority of India (FSSAI) chairperson Ashish Bahuguna told PTI.
Stay tuned with breaking news on HT Channel on Facebook.
Join Now
Patanjali Ayurved strongly denied FSSAI's claims saying it has a licence for pasta in the central category from the FSSAI and that no separate approval was needed.
"As per FSSAI, noodles come under the 'pasta' category. FSSAI has given us licence for relabelling in the pasta category," company spokesperson SK Tijarawala said.
Read | Ramdev launches Patanjali instant noodles, plans 6 plants
A food safety official in FSSAI, who did not wish to be quoted, gave a different twist to the controversy saying the FSSAI no longer has the authority to give separate licenses for 'novel foods'.
"The noodles-company is technically not in the wrong because the law does not make any provisions for the FSSAI to give such licenses. It used to be given under an advisory that the body had issued in 2013. Since, the Supreme Court struck it down, anyone can bring in products in the market without applying for a product approval," the official told Hindustan Times.
FSSAI, till three months ago, used to issue product approvals for food articles listed in Section 22 of Food Safety and Standards Act, 2006, including novel food products for which the standards were not mentioned in the Act.
The FSSAI's 2013 advisory was struck down by the Supreme Court on August 19. Following this, a new advisory issued by the director (product approval) Sandhya Kabra stated that the body will discontinue providing such licences.
Effectively, the regulatory body can now ensure the safety of the product only after it is in the markets, and not at the approval stage.
"The role of the body begins after a product is launched in the market. The body can pick up samples and check them for various safety parameters," the FSSAI official said.
Patanjali's spokesperson said the FSSAI chairperson "probably didn't know this because he was new to the job."
Both Ashish Bahuguna and Sandhya Kabra refused to comment when HT tried to reach them.
Patanjali had launched 'Atta Noodles' earlier this week in 70 gram packs priced at Rs 15, with an eye to take on market leader Nestle's Maggi, which had returned to the shelves five months after FSSAI had banned it.
Read | Rivals Wai Wai, Patanjali up the ante as Maggi makes a comeback