Patel stir: 7 killed, army called in to control Gujarat violence
Updated on Aug 27, 2015 12:07 AM IST
Prime Minister Narendra Modi on Wednesday called for calm in Gujarat as fresh violence rocked parts of the state.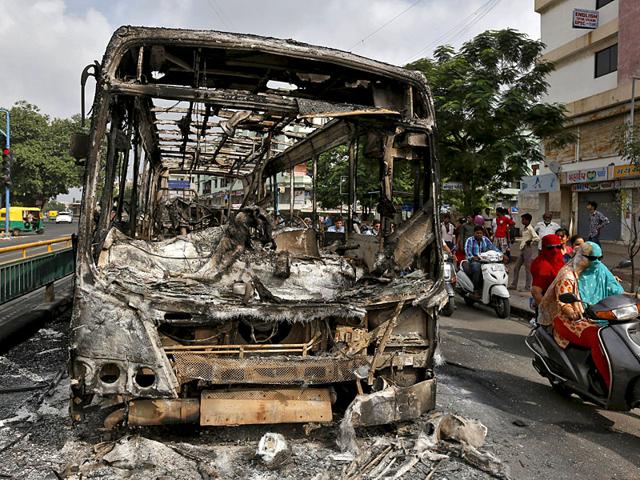 Gujarat was on the boil on Wednesday as seven people were killed in widespread violence triggered by a snowballing movement for reservations for the Patel community, forcing the government to deploy the army and impose a curfew in parts of the state.
Prime Minister Narendra Modi appealed for peace as violent protesters went on a rampage, attacking police posts and public buses following a police baton-charge and the brief detention of their leader, Hardik Patel, after a massive Patel rally in Ahmedabad on Tuesday.
Tensions spiked as angry protesters torched police stations, burnt government and private vehicles, and pelted stones at security personnel, while police allegedly used excessive force leading to the death of five people in police firing. More than 100 buses were torched and property damaged in Ahmedabad, Surat and Mehsana cities and the towns of Unjha and Visnagar, officials said.
Normal life was paralysed in several parts of Gujarat with schools, colleges and business establishments such as banks and public transport closed following a shutdown called by the group spearheading the stir, the Patidari Anamat (Reservation) Andolan Samiti (PAAS). Mobile internet services were blocked in Ahmedabad.
Prime Minister Modi appealed for peace in a video message in Gujarati with Gandhi and Sardar Patel's images in the backdrop, saying violence served no purpose.
Watch
:
"We have always believed that the development of the state is possible only if we all walk together and stay united. It is my appeal to my brothers and sisters that the occasion calls for a single mantra – 'peace'. Each and every issue can be resolved through talks," he said.
Home Minister Rajnath Singh spoke to Chief Minister Anandiben Patel and assured her of all central help. About 5,000 paramilitary personnel were rushed to the state and the army deployed five columns of 80 soldiers each on the streets of Ahmedabad.
Ahmedabad wore a deserted look, but the social polarisation was palpable. Dilip Santukbhai, an auto driver, said the Patels had indulged in rioting the night after the rally led by the 22-year-old Hardik Patel.
"They own most of the land, most of the hotels here. They are rich. But they want reservation. If they get it, so should Brahmins, so should Thakurs and so should my son who is in class 8," he said, with a laugh. "I am Sindhi," he added.
The Patels said their demands were justified. "We are not asking for food; we are not asking for homes; all we are asking for is access to education. Someone with 90% sells medicines; a Dalit with 40% becomes a doctor," said Vikas Patel, who runs an agricultural motor-pump business.


Watch:Curfew imposed in parts of Gujarat after overnight violence
The Patidars, or the Patel community, are a largely wealthy business community that has been a driving force in India's economy, dominating trades such as diamonds, textiles and agro businesses. The Patels, who wield wide political power in Gujarat, are divided into three sub-castes -- the Leuvas, the Kadavas and a much smaller group Anjanas. Together, the community accounts for 12-15% of Gujarat's 63 million people.
The Patel community has warned the BJP government in Gujarat it will face consequences in the 2017 assembly polls if its plea is not accepted. The Gujarat government had earlier rejected the demand. Under a Supreme Court ruling, reservations cannot cross the 50% mark in any state which Gujarat has already reached.
"If you do not give our right, we will snatch it," Hardik told the rally. "We will continue our movement on the path of non-violence. We are urging to restore peace. If needed, strikes and fast will happen everywhere."
(With inputs from agencies)

Read |



In pics |