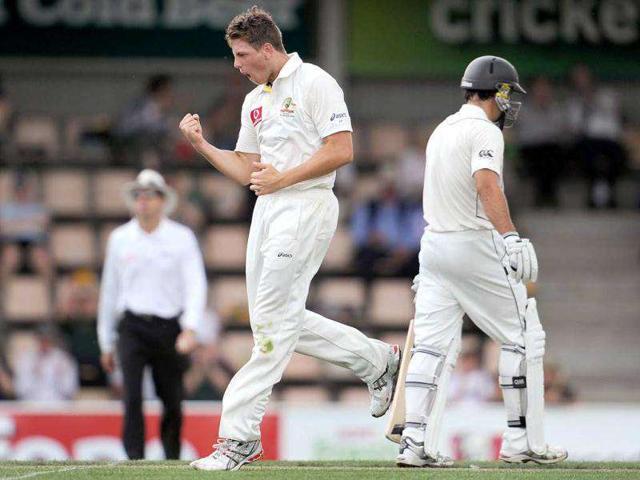 Pattinson to return in later stages of tri-series, says Arthur
Tearaway fast bowler James Pattinson, who is recuperating from an injury, could be back in the team for the later stages of the ongoing triangular series, Australia coach Mickey Arthur said today.
UPDATED ON FEB 08, 2012 11:15 AM IST
Tearaway fast bowler James Pattinson, who is recuperating from an injury, could be back in the team for the later stages of the ongoing triangular series, Australia coach Mickey Arthur said on Wednesday.

"Pattinson bowled at us in Melbourne, so he's coming back. We could see Pattinson at the back end of the one-day series," he said here before the start of the second ODI of the tri-series between India and Sri Lanka at WACA.
Pattinson played only two Tests against India before a foot strain forced him to sit out of the squad.
But in the two Tests he played against India, Pattinson claimed eleven wickets and was also the man-of-the-match in the first game at Melbourne.
Another pacer Ben Hilfenhaus, who played in the Test series, has already been recalled in place of injured Brett Lee and Arthur said there was keen competition for places in the team.
"Nobody wants to rest which is great. The guys want to keep playing. They realise we are developing a really good talent pool. Places are at a premium and nd there is a lot of competition for places. I guess nobody wants to relinquish their position which is perfect," the South African said.
The two senior-most members of the team, Ricky Ponting and Mike Hussey, are still making their presence felt in the team.
"That is one of the reasons we kept the squad together. They value of Ricky and Mike is sensational around the group. They come in, they still, I reckon, are our best trainers. They still are our fittest players," Arthur said.
"For Peter Forrest and the younger guys to be around those two is inspirational for them. They certainly get a really good indication as to what is required to become an international player and have a sustained career. It's really instrumental they are still around the group."
Australia play Sri Lanka at this very venue on Friday and Arthur said his quicks are keen to go out and perform in the seamer-friendly WACA ground.
"They are all very keen to get out on the WACA. Hilfy (Hilfenhaus) has come in as standby. It's likely that we will have the same attack. But again that's tomorrow's problem," the coach said.
He also said that they will record today's match for inputs on Sri Lanka ahead of Friday's match.
"We'll have the game taped. We've got a meeting tonight We'll run through most of it."
Arthur reiterated that Australia would rotate its players in the tri-series.
"It's hard to say where and when and how we are going to rest them. Results determine how you get into a competition. Our plan was always to start well. And then through the middle give some development opportunities to some players, and then pick our best team in the closing stages and hopefully the finals of the competition.
"But results along the way determine that. That is the plan and we see how it unfolds," he said.
Young wicketkeeper-batsman Matthew Wade has really made his presence felt in the shorter formats of the game and Arthur said he would not be surprised if he played only as a batsman at some stage of the series.
"Wade has been outstanding. He is a terrier. He is a fighter. He has got a good technique when he bats. He is also very good behind the stumps," he said.
"Wade just as a specialist bat, we wouldn't rule it out of the equation. Again, we have so many batters who are knocking on the door. Wade plays spin very well. It could happen some time down the line," Arthur added.
There is a feeling that there is not enough one-day cricket for Australia in near future but Arthur discounted it.
"Definitely not. You're always working to another competition. There's Champions Trophy next year, then a World Cup in 2015. So you're always building up and thinking about these competitions. It's one competition where you're like to try different players and rotate them more easily than in any of the other formats.
"I think as long as as there's a World Cup, one-day cricket will always be very strong," he said.
The talk invariably shifted to England and Ashes and how Australia's old rivals have copped defeats against Pakistan recently.
"I was really impressed the way Pakistan played. I've to be honest, the conditions were very very suitable for them and that has to be held in isolation. Conditions definitely favoured Pakistan, but I don't think England were battle-hardened at all," Arthur said.
"I think that came out in the way they played. They'll be properly prepared for their summer and for when we got there at some stage.
"I wish it was this summer in England. We're building nicely, we're bubbling away and I'm very happy with where the team is at the moment. We're just getting better and better," he added.
Close