Russian woman severely injured in acid attack in Varanasi
India made acid attacks a separate class of crime in 2013 amid growing incidents of revenge on women who had spurned sexual advances or rejected a marriage proposal.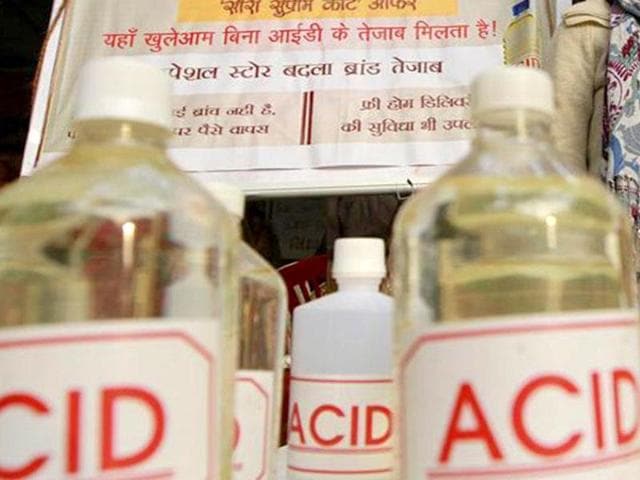 Updated on Nov 13, 2015 06:59 PM IST
A 23-year-old Russian woman sustained burns and severe injuries on her face, eyes, hands and body after a man whose marriage proposal she allegedly spurned attacked her with acid early Friday morning in Varanasi.
Police said the tourist, Darya Yurieva, arrived in the city three days ago and was staying as a paying guest at Hriday Lal Srivastava's house, located in Nand Nagar colony in the heart of Varanasi. She had stayed at the same house for three months during a previous visit.
She told the police that Hriday's grandson, Siddhartha Srivastava, attacked her and hurled acid at her around 4am, when she was sleeping in the balcony of her third-floor room, raising concerns about the continuing easy availability of acid despite orders restricting their sale.
"She sustained serious eye injuries. The next 72 hours will be very critical. A plastic surgeon has also examined her. We are giving her the best possible treatment," said Dr KK Gupta, the chief medical superintendent of Sir Sunderlal Hospital at Banaras Hindu University where the victim was admitted.
Yurieva said she wanted to go back to Russia as her visa had expired and this allegedly angered Siddhartha, whose marriage proposal she turned down weeks ago. In her statement, the tourist said while she saw Siddhartha as only a friend, he was in love with her.
Sources said she told the magistrate that she belonged to Moscow but police said two passports were recovered from her room -- one Russian and the other Bulgarian.
"A Russian national has been admitted to hospital in a critical condition as she sustained injuries after acid was thrown on her by a youth. A case has been registered following a complaint by her," said sub-inspector Sanjiv Kant Mishra, station officer of Lanka police station.
Siddhartha fled soon after the incident but police questioned his father, brother and grandfather. Two others were also detained but released later. Siddhartha was being treated by a psychiatrist at BHU, his grandfather Hriday Lal said.
Officials said the Prime Minister's Office (PMO) asked Varanasi district magistrate Rajmani Yadav to provide her with the best possible treatment, whose cost the district administration would bear. The Russian embassy in New Delhi has been informed about the incident, sources said. A few officials are expected to reach Varanasi from New Delhi.
"Teams have been deployed to arrest the main suspect. Prima facie it appeared to be a case of spurned love. We are investigating further," senior superintendent of police Akash Kulhari said.
India made acid attacks a separate class of crime in 2013 amid growing incidents of revenge on women who had spurned sexual advances or rejected a marriage proposal. The courts have promised free medical treatment and the government has moved to stop the free sale of acid but such attacks continue unabated, a fact brought out by women who boldly spoke out against the practice in an award-winning series Stop Acid Attacks by HT in 2013.
Friday's attack was the latest in a series of crimes reported by foreign women visiting India. An American tourist accused two men of raping her in Dharamsala in September. In February, a Japanese woman accused a tour guide of drugging and raping her in Jaipur.
Close Story
Personalise your news feed. Follow trending topics