Singer, archer, surgeon and more: Meet India's Padma awardees
President Pranab Mukherjee approved conferment of Padma Awards to 112 people this year. The list comprises 10 Padma Vibhushan, 19 Padma Bhushan and 83 Padma Shri awardees. Here's the complete list.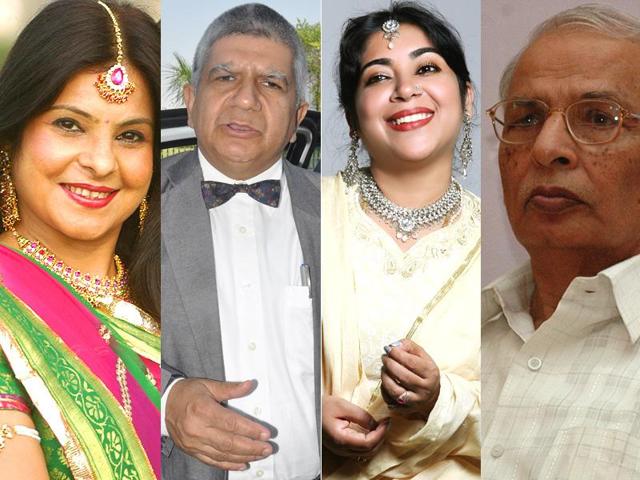 Updated on Jan 26, 2016 02:49 PM IST
Hindustan Times |
HT Correspondents
President Pranab Mukherjee approved conferment of Padma Awards to 112 people this year. The list comprises 10 Padma Vibhushan, 19 Padma Bhushan and 83 Padma Shri awardees. Here are some lesser known personalities in that list who have been thriving to make India a better place.
- Dr SN Kureel (58)
Surgeon from Lucknow
Dr Kureel's single stage surgical technique for congenital problems is followed by paediatric surgeons across the country and has earned him accolades all over the globe. A humble surgeon, he has not only developed the technique but has been teaching about it worldwide.
His field of work include neonatal surgery, anorectal malformations, hepatobiliary surgery and reconstructive pediatric urology. Dr Kureel is the head of the department of paediatric surgery at King George's Medical University, Lucknow, and president of the Indian Association of Paediatric Surgeons.
- Dr Ravi Kant (58)
Surgeon from Bhopal
Dr Kant holds the Fellowship of the Royal College of Surgeons (FRCS) from four places - a distinction that only a few doctors in India have. Professor of surgery for the past 18 years, Ravi Kant has been the head of the department of surgery at AIIMS, Bhopal. He joined as the vice-chancellor of Lucknow's King George's Medical University on April 10, 2014.
He has been instrumental in starting a organ donation programme and the organs retrieved from brain dead patients have benefited people not only in Lucknow but from other places as well. He is an examiner for the Royal College of Surgeons and his area of interest is cancer surgery.
- Malini Awasthi (49)
Folk Singer from Kannauj
Born in Kannauj district of Uttar Pradesh, she spent her formative years in eastern UP. She took formal training of classical music from Ustad Shujat Hussain Khan and Rahat Ali Khan. She is a Visharad and a Nipun from Bhatkhande Sangeet Mahavidyalaya.
She is also a recipient of Yash Bharti award which was conferred by the state government to her recently.
- Girija Devi (85)
Classical vocalist
Devi, who lives in Varanasi and Kolkata, has made enormous contribution to the field of classical music. Devi, who has received the Padma Vibhushan, is known as the thumri queen. She has nurtured chaiti, thumri and dadra in her classical voice.
"Padma Vibhushan to me is an honour to my gurus and whole Benaras gharana of music. I am happy as you are. I wish that the Benaras gharana of music keeps flourishing," Girija Devi told HT over the phone.
- Dr TK Lahiri (75)
Cardiothoracic surgeon from Varanasi
Dr Lahiri is a well-known cardiothoracic surgeon. Even after his retirement in 2003, he has been associated with the Institute of Medical Sciences (IMS) of Banaras Hindu University as a distinguished professor. He treats all patients equally and says serving patients is the only goal of his life.
"With the grace of Lord Vishwanath and Maa Annapurna, I will keep serving patients till my last breath. For giving me the Padma Shri, I am thankful to the government," he said.
- ON Srivastava (70)
Professor at Banaras Hindu University
Srivastava is associated with the physics department of Banaras Hindu University (BHU) and is working to make Varanasi a hydrogen city. He obtained PhD in physics from BHU in 1969 and went to the Cornell University, New York for two years.
After coming back from Cornell, he associated himself with the national physics council and started teaching at BHU. He got the Bhatnagar Fellowship in 1998, Homi Bhabha Fellowship in 2014 and the Bhabha Atomic research Centre award in 2014.
- Ramharsh Singh (74)
Ayurveda practioner from Varanasi
Singh retired from the department of ayurveda of the Banaras Hindu University in 2014. Before that he was the vice-chancellor of Rajasthan Ayurveda University. He has been associated with BHU as a distinguished professor since 2012.
"Doing a PhD under the guidance of KN Udappa was very significant. Serving patients is my mission. I pray to God that I keep serving patients throughout my life. As for Padma Shri, it is a great honour," Singh said.
- Soma Ghosh (47)
Classical vocalist from Varanasi
Ghosh, who completed her education in Varanasi and belongs to the Benaras gharana, calls Ustad Bismillah Khan, the late shehnai maestro, her manas pita (godfather). After a preliminary training from her mother Archana, a noted classical singer, she trained under Pandit Narayan Chakravorty of the Senia gharana and Bageshwari Devi of Benaras gharana.
"This is a great honour. I dedicate it to Ustad Bismillah Khan. His blessings got me this honour. Padma Shri to me is an honour to whole Benaras gharana," she said.
- Shribhas Supkar (48)
Textile designer from Kashi
After his father Yadunath Supkar, Shribhas Supkar is the second designer from Kashi to get Padma Shri. He is known for rejuvenating designs that were on the verge of extinction. Shribhas won the national award for handicraft in 1995 for developing Awadh Jamdani. In 2009, he organised an exhibition called Kashi Kaleidoscope in Delhi to exhibit Banarasi esigns.
"I am carrying forward my father's legacy. I will keep adding more designs to Banarasi handicraft," Supkar said.
- Deepika Kumari (21)
Archer from Jharkhand
Ranked the top woman archer in 2015, Deepika is currently the world number five. A winner of of two gold medals in the 2010 Commonwealth Games, Deepika also represented India in 2012 London Olympics 2012.
Deepika grew up in a thatched hut in Ratu Chatti village, about 15 km from Jharkhand capital Ranchi. She practised with handmade bow and arrows as a child before then chief minister Arjun Munda spotted her talent and took her to his academy in Seraikela where she further honed her skills.
- Dr Viswanathan Shanta (88)
Cancer specialist from Chennai
Dr Shanta is the chairperson of Adyar Cancer Institute in Chennai. Her pioneering work in cancer research has won her worldwide acclaim and has received several prestigious awards, including the Magasaysay Award, Padma Shri, Padma Bhushan, before she was chosen for the highest civilian award.
Dr Shanta has been associated with the research institute since 1955, where she has been living, in various capacities. She has also served on the World Health Organization's health advisory committee and held positions in several other committees on health and medicine.
Arunachalam Muruganantham (54)
Social entrepreneur from Coimbatore
Arunachalam Muruganantham is known for his machines for making low-cost sanitary napkins and innovations in creating awareness against unhygienic practices by women during their menstruation in villages.
Born in 1962 into a weavers' family, this social entrepreneur who grew up in poverty, figured in the Time magazine's list of 100 most influential people in the world in 2014.
The machines he made can manufacture safe sanitary napkins at less than one third the cost of commercially manufactured ones and can be found in 23 states across India. He has plans to take his machines all over the globe.
Simon Oraon (83)
Environmentalist from Ranchi
Known as Jharkhand's waterman, Oraon has taught 51 villages in his state the art of water harvesting and forest protection. He plants 1,000 saplings every year, digs up ponds and wells.
With his contribution, the Bedo block has become one of the largest vegetable producers in Ranchi district. The block produces around 20,000 metric tonnes of vegetables and exports to neighbouring states of West Bengal and Bihar.
Dr Praveen Chandra (52)
Cardiologist from Gurgaon
Dr Chandra is a leading cardiologist and chairperson of interventional cardiology at Medanta - The Medicity in Gurgaon. An alumnus of King George Medical College (KGMC), Lucknow, Dr Chandra is proficient in new devices and technologies related to his area of expertise, particularly in the field of coronary angioplasty.
He has been a distinguished faculty member at various international meetings, and has published over 100 articles, reviews and abstracts in various national and international journals. He has also been a fellow American College of Cardiology, European Society of Cardiology and Society for Cardiovascular Angiography and Interventions among others.
Dr MV Padma Srivastava (46)
Neurologist at AIIMS, Delhi
Dr Srivastava is a professor at the neurology department of the All India Institute of Medical Sciences, Delhi. She has organised a number of national and international continuous medical education programmes and symposia.
She is working on projects like human autologous stem cell therapy in stroke and cerebral palsy. Her other areas of active research interest include role of unconventional risk factors for stroke; role of stroke genetics; genetics in vascular dementia and comprehensive stroke rehabilitation programmes.
Dr Anil Kumari Malhotra
Homeopathy from Delhi University
Dr Malhotra is the principal of Nehru Homoeopathic Medical College and Hospital that comes under the premier Delhi University. She has been a pioneer in the field of traditional medicine and has been associated with the college for years.
She has several research papers, presentations and workshops to her credit.
Prof RK Sinha
Environmentalist from Patna
Sinha is popularly known as the dolphin man for his pioneering work for the preservation of the Schedule 1 animal for the last three decades.
"I am thankful to chief minister Nitish Kumar for nominating my name for the award. He has been very appreciative of my work since 2006, when I organised a national conference in Patna and now my objective is to develop a workforce of young researchers to carry forward the work for saving dolphins and rejuvenating the Ganga," he said.
French filmmaker Christian Gallisson has made two films on Sinha's work.
Ramoji Rao (79)
Media baron
Padma Vibhushan in literature and education, journalism
Rao, the chairperson of Eenadu group and owns the Ramoji film city. Born in 1939 in Krishna district of Andhra Pradesh in a middle-class agricultural family, Ramoji rose to be one of the most influential people in the two Telugu states. He has a hotel business, produced several films and his Priya foods is a major brand.
Ramoji is credited with bringing several innovations to Telugu journalism like the introduction of the district editions of Eenadu that focuses on the neighborhood news – a method now followed by most other Telugu dailies. Eenadu is known for its credibility and is the largest circulated Telugu daily.
Dr Nageshwar Reddy
Gastroenterologist from Telangana
Padma Bhushan in medicine
Reddy is the chairperson of the Asian Institute of Gastroenterology – a top hospital for gastroenterology in Hyderabad – completed his MBBS in 1978 and worked with major hospitals like the Nizams Institute of Medical Sciences. Reddy has written 400 research papers, articles in various science journals.
"The award credit also goes to our hospital doctors and paramedical staff. The award brings a greater responsibility. We are working towards serving the poor at affordable costs," he reportedly said.
He had received Padma Shri in 2002.
Dr Yarlagadda Lakshmi Prasad
Writer and politician from Andhra Pradesh
Padma Bhushan in literature and education
Prasad is credited for becoming a bridge between the Telugu and Hindi languages and writing or translating 62 books in the two languages. Born in 1953 in Andhra Pradesh's Krishna district, Prasad worked as a professor of Hindi in Andhra University. He has received the Sahitya Academy award and also served as the chairperson of the AP Hindi Academy.
"My effort now is to get Hindi recognised as an official language in the United Nations," he said.
He had received the Padma Shri in 2002.
Sania Mirza (29) and Saina Nehwal (25)
Tennis and badminton players from Telangana
Padma Bhushan
The two racket-wielding women from Hyderabad are the most recognised sportswomen of the country. They have already received the nation's highest awards in sports – Rajiv Khel Ratna, Arjuna and also the Padma Shri.
"I did not expect this award so it made me surprised and also happy. This would encourage me to achieve more laurels in future," Nehwal said.
K Laxma Goud (75)
Artist from Telangana
Padma Shri in art
Born in 1940 in Medak district of Telangana, Goud is credited for his beautiful portrayal of the Telangana's culture and life especially of the rural people on the canvas. His paintings have been exhibited in world-renowned museums like the Salarjung Museum in Hyderabad.
"This is recognition for the art community. Man, woman, animal, tree – our environs are my inspiration," Goud said.
TS Chandrasekar (60)
Gastroenterologist from Telangana
Dr Chandrasekar, who built the Medindia Hospital, has several achievements including creating the first Braille chart on hygiene. A medicine graduate from Madurai Medical College, Dr Chandrasekar had set up the department of medical gastroenterology at Coimbatore Medical College. He is also an adjunct professor at Chennai's MGR Medical University.
His significant contribution in creating 14 teaching CD-ROMs in gastrointestinal endoscopy from more than 10,000 cases of personal collections of video recording of these procedures and Handbook on Endoscopy are recognised the world over.
He has also trained over 250 doctors from across the world in this field.
DK Srinivasan (73)
Social worker from Tamil Nadu
Octogenarian Srinivasan, a successful businessman, is known for his social work for over the three decades. He gave up his business in fast moving consumer goods and petroleum products to plunge full time into social service.
His social service activity in health and education started in a small shed and the 10-paise hospital has today become a super speciality hospital to treat the poor – Hindu Mission Hospital at Tambaram in Chennai. Srinivasan is also a correspondent and secretary of Gurukulam Educational Institutions formed during the second World War.
Madeleine De Blic
Social activist from Puducherry
Belgian-born De Blic, who has made Puducherry her home, has been serving the poor through Volontrait India she formed way back in 1962. Beginning with treating poor children and babies with life-threatening diseases, she encompassed a health prevention drive by teaching basic hygiene.
Last year, the state government awarded her a commendation certificate in recognition of her contribution to the welfare of the poor and the downtrodden. The French government had honored her with the title of Chevalier de la legion d'Honour in 2013.
Haldhar Nag (65)
Poet from Odisha
Nag was born in a poor family in Ghens village of Odisha's Bargarh district. A school drop out before class 3, Nag sold edibles near the high school in Ghens to earn his livelihood. But his passion for poetry has made him a legend in his lifetime. He has written several collections of poetry in Sambalpuri language that is spoken across the western parts of the state.
Nag became extremely popular in western parts of Odisha and several parts of Chhattisgarh for his inimitable style of reciting his poems, especially the epic Veer Sundar Sai based on the valour of one of Odisha's greatest warriors Surendra Sai who put up a resistance to the British for about three decades.
Despite being unlettered, Nag has tremendous memory and the capacity to keep an audience of thousands in thrall for hours with his recitals without missing a word or sentence.
All his popularity notwithstanding, Nag remains down to earth with a simple dhoti and a half-sleeve inner as his attire. And he still sometimes sells edibles from his shop near the high school in his village.
(Inputs by KV Lakshmana from Chennai, Umesh Raghuvanshi from Lucknow, B Vijay Murthy from Ranchi, Presley Thomas from Mumbai, Saptarshi banerjee from Kolkata, Rhythma Kaul from Delhi, Vijay Swaroop from Patna, Priya Ranjan Sahu from Bhubaneshwar)
Close Story