NDA government is Congress plus a cow: BJP leader Arun Shourie
Oct 27, 2015 06:58 PM IST
BJP leader Arun Shourie on Monday said that the Narendra Modi government believes managing economy means "managing the headlines" and that people had started recalling the days of former Prime Minister Manmohan Singh.
BJP leader Arun Shourie has mounted a fierce attack on Prime Minister Narendra Modi's government, saying its "lack of direction is making people miss" former Prime Minister Manmohan Singh.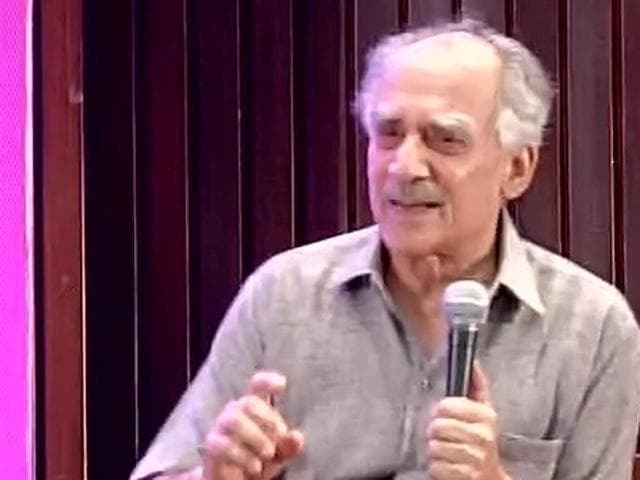 The former Union minister singled Modi out for criticism while speaking at a book launch on Monday evening and described the current Prime Minister's Office (PMO) as the weakest ever.
The policies of the Bharatiya Janata Party-led government were no different from those of previous Congress regimes and the ruling National Democratic Alliance (NDA) is more interested in managing the media's coverage, he said.
"Doctor Singh (Manmohan Singh) ko log yaad karne lag gaye hain (People have started remembering former Prime Minister Manmohan Singh). The way to characterise the policies of the government is – Congress plus a cow. The policies are the same," Shourie said.
The comment was an apparent dig at the controversy over beef bans and the lynching of a man in a Uttar Pradesh village over rumours that he had eaten beef.
Pointing to the differences between the NDA and previous Congress governments, he said: "There is clearer belief (in the current government) that managing the economy means managing the headlines and this is not really going to work."
BJP leader Arun Shourie | NDA govt is Congress plus a cow
Targeting Modi, the former disinvestment minister in the Atal Bihari Vajpayee government said, "I feel there was never a weaker PMO as now."
He added, "There has never been as great a centralisation of functions, not power, of functions in the PMO as now...If fellows don't have domain expertise that (former NSA) Brajesh Mishra had, L K Jha had, all these principal secretaries had, then things get stuck."
Shourie, who was among the BJP leaders sidelined after Modi rose to power, said "everybody is busy and everybody is doing very hard work" but such measures were not producing results.
He said, "If you see impediments that were there in tax administration, virtually no change... Banking reform has been delayed by a year-and-a-half for no reason. So therefore this tortoise is a very generous metaphor. Ye to so hi jata hai (This tortoise goes to sleep)."
Shourie said industrialists are afraid of speaking against the government. "The industrialists who meet the Prime Minister don't speak the whole truth. After meeting the PM, they wonder what is happening and say 'please do something'. And in front of the media they give the government 9 out of 10."
He said the NDA government should embrace everybody instead of getting into "boxing matches" with states and the opposition. The government, he said, has to take every state into confidence for smooth implementation of policies.
"Don't get into a fight with everyone. If you want to build the Delhi-Mumbai Industrial Corridor, you require the support of five chief ministers," he said.
"One thing that has surprised me about the government is its timidity. Slight opposition comes and reform is dropped... In my head I would say please befriend, please impress...You cannot get up every morning and get into a boxing match."
The launch of "Turn of The Tortoise", a book by former Business Standard editor-in-chief T N Ninan, was attended by Manmohan Singh, chief economic advisor Arvind Subranamian and former foreign secretary Shyam Saran.