Family gifts grandma late husband's old letters, her reaction is everything
It's OK to cry.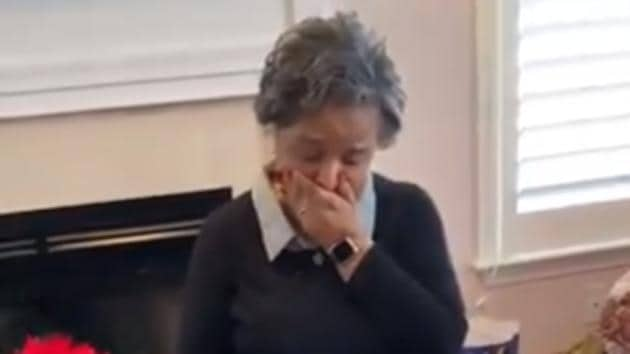 Updated on Dec 28, 2019 12:14 PM IST
Hindustan Times, New Delhi |
HT Correspondent
A woman's heartening and moving reaction to a present she received on Christmas has struck a chord with many. A video, shared by the woman's granddaughter, shows the family gifting her old letters she and her late husband wrote to each other. The heartening moment, especially the woman's reaction to the gift, has made the video go all kinds of viral.
Twitter user @ForeverLAS_ posted the video on December 26. She wrote in the tweet that her grandfather died seven months ago and this was her grandmother's first Christmas without him. "For Christmas we decided to gift her w/ letters we found her & my grandpa wrote to each other in 1962 while they were in college. He kept them all these years," she wrote on Twitter.
The video shows the woman tearing up when she sees the engraved box. She completely breaks down once she sees what's inside.
In another tweet, the Twitter user mentioned that her grandmother is doing fine and said this was "the best gift she could've asked for".
The touching video has been viewed over 16 million times since it was shared. It has also collected over 1.2 million likes and more than 2 lakh retweets - and still very much counting. People have been left utterly moved by the video and have posted a ton of comments on the video.
"I'm in shambles. So sorry for your loss. Bless your Grandmother and your family. Thank you for sharing this," says a Twitter user. "Bless your Grandmother. This was so thoughtful of you guys, I'm sure she'll treasure that for years," says another. "This is the most beautiful heartfelt thing I've seen on Twitter. Tears pouring down my face. What a loving gift and the case is gorgeous too. Your grandmother will cherish this," says a third, not unlike many others.
Several people have shared their own similar heartening stories:
A few days ago, a video of a child reacting with joy to what was described as the "worst Christmas present ever" also went viral. The clip shows the girl receiving a banana as a present as part of a little prank. However, her excitement about the present tugged on the heartstrings of many.
Close Story
Personalise your news feed. Follow trending topics