A sociology teacher in Rajasthan's Bikaner driving forestry revolution
Hindustan Times, Bikaner |
Aparnesh Goswami
Feb 04, 2018 10:03 PM IST
Professor Shyam Sunder Jyani, a teacher at the Government Dungar College in Bikaner, has come up with the concept of familial forestry or domesticating trees by families for conserving the environment
Amid concerns of climate change and low agricultural productivity, a new forestry model called "familial forestry", a concept conceived and developed by a local sociology teacher, is gaining currency among village communities in western Rajasthan.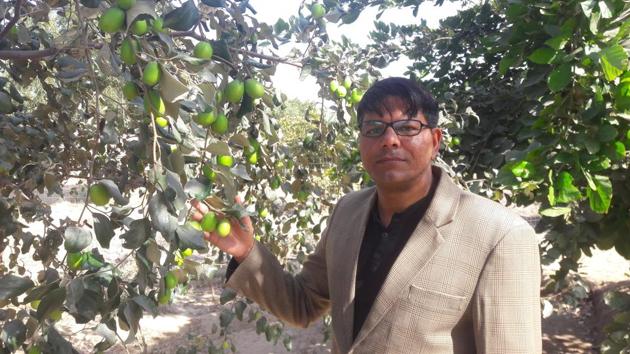 Professor Shyam Sunder Jyani, a teacher at the Government Dungar College in Bikaner, has come up with the concept of familial forestry or domesticating trees by families for conserving the environment.
Stay tuned with breaking news on HT Channel on Facebook.
Join Now
Jyani has sparked a mass movement in western Rajasthan through the concept.
Under the concept, Jyani encourages villagers to plant fruit trees in their house and care for the pants as family members.
Launched in 2006 from a desert village in Bikaner's Himtasar, today, the concept has been replicated by more than 200,000 families with more than 750,000 trees planted in more than 2,600 desert villages of north- west Rajasthan.
Jyani has developed a forest on four hectare of land within the college campus, where more than 100 varieties of trees and plants have been planted and also launched an Android-based mobile app-- My Forest and Green Leaders—to help people to connect with the concept and become aware about the environment.
"There is more than 819 gigatonne of atmospheric carbon dioxide and to develop climate change resilience, we have to bring down the carbon dioxide content in the atmosphere," said Jyani.
"The present method and practice of teaching environment, especially as an academic subject or theoretical concept, doesn't make any sense and it needs deeper involvement of students," he said.
"Familial forestry is an idea that is based on head, hand and heart and involvement of families, especially students, in learning about environment. Familial forestry is a way through which we can engage every household in growing forests."
The "Mission Hariyali" team, which is running the plantation drive in Bihar's Nalnda, too has adopted the concept and the team has involved more than 40,000 families in its plantation drive, Jyani said.
Jyani has also developed in-situ budding of desert ber or Zyzyphus nummularia bush that grows about two meters high and spreads out, forming a thicket in the desert soil.
This is the source of the smaller variety of fruit called Ber. He developed a technique in which epidermal tissue is added to a new root- stock to increase fruit yield.
The fruit yield of these trees has increased manifold without water except rain, said Jyani, who is also working to revive the Khejari, the state tree of Rajasthan.
The grafted trees can bring revolutionary changes in the bio-diversity of the deserts in western Rajasthan, he said, adding that it will also help villagers in fighting malnutrition as the fruit is very nutritious.
The tree after budding grows thicker and higher compared to the natural bushes that become a valuable source for fodder and fuel.
Jyani, who carrying out the work with limited resources apart from his salary, said there is a need of setting up a centre for familial forestry with adequate resources and an eco task force-- on the lines of the Territorial Army--can change the ecology of the Thar Desert.