After newborn screening lab, JK Lone hospital to screen blood disorders
Dr Gupta said that the hospital will screen for 12 kinds of blood disorders under hemoglobinopathy so that the future generation is healthy.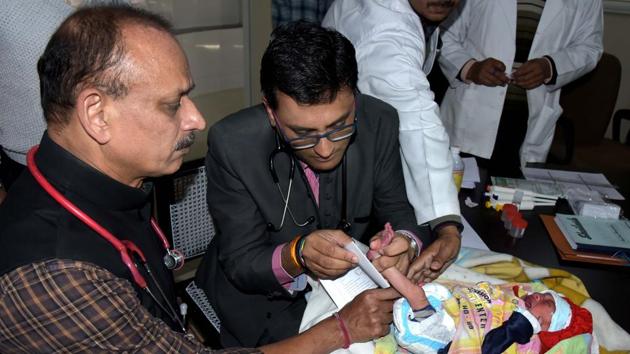 Updated on Jan 22, 2018 09:46 PM IST
State's first newborn screening laboratory has started functioning at Jaipur's JK Lone Children's Hospital from Monday.
Sawai Man Singh (SMS) Medical College is the only government medical college in the country to have a rare disease clinic and a 12-bedded ward at its attached JK Lone Children's Hospital in Jaipur. Rare diseases are genetic diseases and 80% of them have identified genetic origin, involving one or several chromosomal or gene abnormalities.
JK Lone Hospital medical superintendent Dr Ashok Gupta said that in the second phase screening for hemoglobinopathies in newborns will begin by the end of March 2018 at the hospital. The newborn screening laboratory was set up in the first phase.
Hemoglobinopathies are a group of disorders passed down through families or inherited which affect the number or shape of the red blood cells in the body.
Dr Gupta said that the hospital will screen for 12 kinds of blood disorders under hemoglobinopathy so that the future generation is healthy. They will be screening for disease such as thalassemia, Sickle cell disease (SCD) etc.
"We will screen for five genetic disorders—congenital hypothyroidism, congenital adrenal hyperplasia, G-6PD, biotinidase deficiency and galactosemia— here. The indications of these diseases are found at the time of birth and initial life and symptoms develop later in life. By the time investigation is done to find out the disease, organs are damaged," Dr Gupta said while speaking about the newborn screening laboratory.
"Through screening, we will know about untreatable diseases and can start treatment at birth. These diseases can be easily treated once detected at the beginning and at a cheaper cost," added Dr Gupta.
Screening will be done for newborns aged between two and seven days, preferably those who have started consuming mother's milk. All babies born at Zenana Hospital, Mahila Chikitsalaya and Gangauri Hospital attached to SMS College will also be screened. Around 42,000 children are born at these three hospitals in Jaipur every year.
According to the Indian Council of Medical Research (ICMR), cases of congenital hypothyroidism in India are one in 1200, congenital adrenal hyperplasia is one in 4000, G6PD is one in 900, biotinidase deficiency is one in 6000 and galactosemia is one in 30,000.
The newborn screening lab in-charge Dr Priyanshu Mathur said that three blood drops are taken from the newborn by pricking the heel on specialised filter paper. The dry blood spot is then used for investigations. The results take between 48 and 72 hours.
The lab has been set up with the help of Rajasthan State Industrial Development and Investment Corporation (RIICO) that has given Rs 50 lakh under corporate social responsibility.
Close Story
Personalise your news feed. Follow trending topics