At Jaisalmer shelter, no food for Muslims forced out of village
Hindustan Times, Barmer |
, Barmer
Mukesh Mathrani
Oct 12, 2017 10:20 AM IST
Jaisalmer municipal commissioner says they don't have budget to provide food to displaced families.
Forced to leave their village in western Rajasthan following alleged threats from upper caste Hindu villagers, about 20 Muslim families are now staring at another crisis.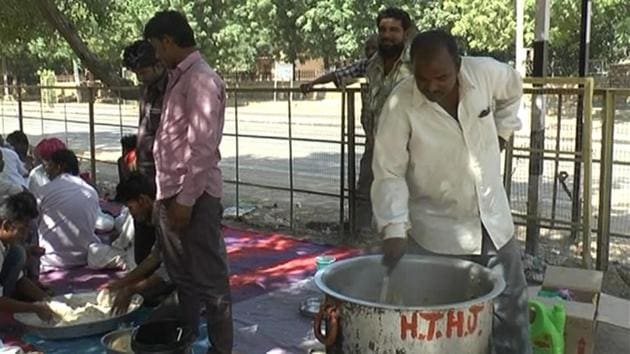 The district administration, which arranged a temporary shelter for them in Jaisalmer, has failed to provide them food for last two days. Lack of facilities at the shelter has left them, especially women and children, in the lurch.
Stay tuned with breaking news on HT Channel on Facebook.
Join Now
Around 150 members of these 20 families do not want to return to their homes in Dantal, around 700 kms from Jaipur. They have urged the district administration to shift them to another safer location.
The families left their village following a string of events that began with the killing of a Muslim folk singer, allegedly by a Hindu priest and his brothers. The priest, Ramesh Suthar, who is a traditional occultist, has been arrested on charges of while his brothers are absconding.
Suthar is accused of killing 45-year-old Aamad Khan for his "poor singing" during a Navratri function at the village temple on September 27. Khan's body was found outside his house the next day. The Rajputs allegedly threatened Khan's family against going to police to report the killing. Khan's family quietly buried the body.
However, after their relatives from nearby village came and assured them of help, Khan's family lodged a case against Suthar and his two brothers.
Meanwhile, 20 families of Muslim folk singers, including Khan's, left the village following alleged threat from the Rajputs and took shelter at nearby Balad village.
On Monday, some of them met Jaisalmer district collector (DC) KC Meena, who assured them of help and put them up in a temporary shelter run by the municipal council for the homeless people. The DC asked the civic body to arrange food for them.
"We are managing food for us through our local resources. The administration has made no arrangement," said Tareef Khan. "However, we cannot mop up resources for long," he said.
Jaisalmer municipal council commissioner Jabar Singh said they didn't have budget for providing food to the displaced families. "We gave them food on Monday but we cannot give them food everyday due to lack of funds," he added.
Meena wasn't aware about the condition of the families at the shelter. He said he will need to check if the families have returned to the village or not.
The district collector also sent a sub-divisional officer to Dantal to ease the tension in the village so that the Muslims could return home. "We are talking to both sides and have assured the Muslims of their safety on their return to Dantal," the DC said.