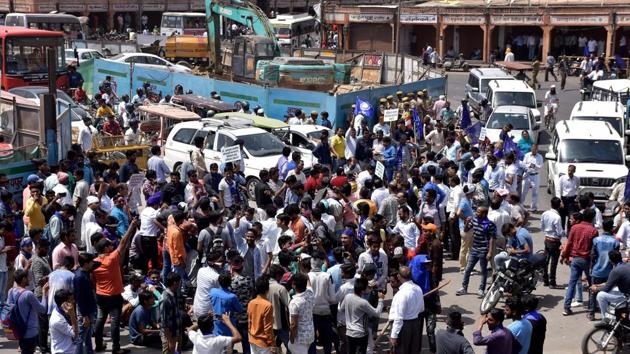 Day after Bharat Bandh violence, normalcy returns to Rajasthan
Prohibitory orders and suspension of internet services continued in some parts of the state after one person was killed in the violence, and eight others were killed in Madhya Pradesh and Rajasthan.
UPDATED ON APR 03, 2018 11:48 AM IST
Normalcy returned to Rajasthan on Tuesday, a day after violence hit several parts of the state during the Bharat Bandh protests against the alleged dilution of the SC/ST (Prevention of Atrocities) Act.
However, prohibitory orders and suspension of internet services continued in some parts of the state.
Curfew was lifted in Gangapur city of Sawai Madhopur district in eastern Rajasthan after situation turned normal around 8 am on Tuesday.
In Hindaun city, also in eastern Rajasthan, police flushed out protesters from the railway station late on Monday. Around 1,000 protesters had laid siege to the station and vandalised signals.
Bharatpur range inspector general, Alok Vashishtha said reinforcements, including two companies of Border Security Force, arrived in Gangapur city on Monday night, following which "we were able to rein in unruly protesters".
He said 15 people were arrested in Gangapur city and 45 in Hindaun on charges of rioting, vandalism, breach of peace and preventing a government servant from discharge of duty.
Internet services in Bharatpur division, which were suspended until 8 pm on Monday, will continue to be suspended until 8 pm on Tuesday in Bharatpur, Sawai Madhopur and Karauli districts. Internet services in the fourth district in the division — Dholpur — were restored post 8 pm Monday.
Internet services in Jodhpur division's Jalore, Jaisalmer, Sirohi, Pali and Barmer, and Bikaner division's Bikaner, Sriganganagar, Hanumangarh and Churu will remain suspended until Tuesday 8 pm.
In Alwar, the family of Pawan Kumar, who died in police firing in Khairthal on Monday, refused to accept his body and are staging a sit-in outside the hospital where the body is kept.
In other parts of the state, police and administration were collating information about the number of cases against rioters and arrests.
Meanwhile, Pankaj Meena, state president of Meen Sena, one of the organisers of the Bharat Bandh on Monday, blamed the administration for the violence.
"We gave them notice for the bandh two days in advance, but they took it lightly. If traders had closed their shops, protesters wouldn't have become unruly," he said.
Meena said some anti-social elements also became part of the protest and resorted to violence to defame his organisation.
On Monday, Bharat Bandh hit businesses across Rajasthan. An estimate by a traders organisation said it cost the industry Rs 2,500 crore.
Close