Inflation, GST fail to stunt Ravana effigy growth in Kota
Sep 28, 2017 07:29 PM IST
Ravana effigies being built in Kota would once again be among the tallest in Rajasthan.
Inflation and additional burden of the goods and services tax (GST) have failed to stunt the growth of demon king Ravana, his brother Kumbhakarna and son Meghnad. Their effigies being built in Kota would once again be among the tallest in Rajasthan.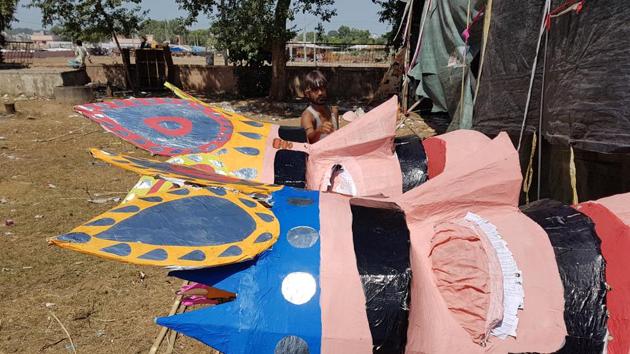 This year, the effigy of Ravana will stand 72-ft tall while that of the two others will each be 40-ft high. With Dussehra just two days away, artisans Abdul Sattar alongwith son Abdul Naem and 20 others are busy giving finishing touches to the effigies.
The Kota Municipal Corporation (KMC) awarded them the contract to build the effigies at Rs 3.80 lakh this year, up Rs 45,000 from last year's Rs 3.35 lakh. Sattar, a resident of Fatehpur Sikri in Uttar Pradesh, has been building the effigies for the last four decades. Both Sattar and Naem justify the hike in their remuneration citing the inflation and rise in prices of the raw materials following GST implementation.
"The cost of raw material involved in effigy making including the waste paper, colour paper, bamboo, cloth, hemp and paint has increased," says Naem.
"Last year we brought around five quintals of glazed paper at around Rs 16 per kg. This year it cost us Rs 23 per kg. Similarly, hemp was available for Rs 60 per kg last year but this year we purchased around two quintals at Rs 82 per kg," he added.
The cost of jute hemp too has shot up from Rs 65 per kg last year to Rs 85 per kg. Bamboos that used to come for Rs 110 a piece, now cost Rs 150. "Paint was available at Rs 250 per litre last year but the prices have gone up by Rs 50 this year," said Naem.
At least 200 sarees are used in the making of the effigies, Name said, adding their prices too have shot up. "Similarly, we bought 600 kgs wheat flour for making glue at Rs 21 per kg. It was available for Rs 16 per kg last year," the artisan said.
Experts agreed that GST seems to have had an impact on the raw materials used in effigy making. They said that while there was no taxation on cloth earlier, now it draws 5% GST. Similarly, paper attracted 5.5% Value added Tax (VAT) earlier, which has now been replaced by GST ranging from 12% to 18%. The GST on paint too has gone up from 5.5% (VAT) to 18% now.
The effigies will go up in flames on dussehra on September 30.