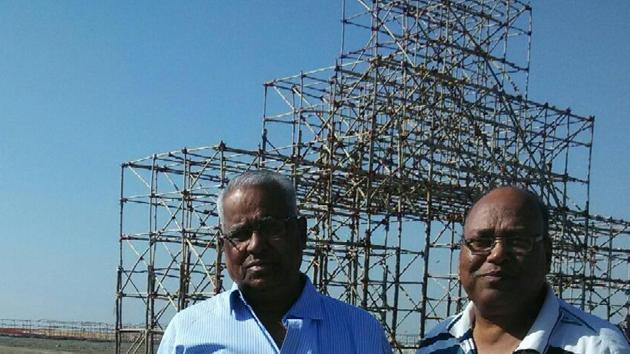 Religious harmony: Muslims give land for Hindu fair in Kota town
District's Kherabad town has a long tradition of communal harmony
Hindustan Times | By Aabshar H Quazi
, Kota
UPDATED ON DEC 27, 2016 03:26 PM IST
Two Muslim villagers in Rajasthan's Kota did not tilt their land this Rabi season to facilitate Hindu community to hold a 228-year-old fair on their farmland, setting an example of communal harmony against the backdrop of growing religious intolerance in the country.
Abdul Hameed (60) set aside 18 bighas of his farmland while 55-year-old Sabir Khan kept free 2.5 bighas for the fair which commenced on January 28 at the district's Kherabad town.
Hameed, a farmer is also a former sarpanch of Khairabad gram panchayat.
Khan, a trader by profession, further constructed 10 houses of 100-square-foot each on his land for the use of pilgrims.
The only temple dedicated to the presiding deity of the Medatwal community (Vaishya) – Phalodi Mata – is situated in Kherabad.
A religious fair, Shree Phalodi Khumbh Mela, is held at the temple once every 12 years. For this year's fair, which will end on February 4, more than two lakh pilgrims from all over the country are expected to throng the town.
To accommodate them the organisers of the fair set up a makeshift township spread across 300 bighas, which include the land two Muslim farmers allowed them to use for free.
Many other members of the Muslim community are generously allowing Hindu pilgrims to draw water from their wells.
There is a history to this communal bonhomie. A Hindu villager Lakshminarayan Chaudharya donated 9,000 square feet of his agricultural land for setting up of a madarsa near the town's mosque six decades ago.
Kherabad town has around 16,000 population and 35- 40% of them are Muslims.
The fair's organizing chairman and son of Chaudharya, Mohanlal, said since the fair is being held on a large scale this year they needed additional land.
Mohanlal Chaudharya said the organising committee took land from many residents on rent ranging between Rs 3,000 and 6,000 per bigha. But Hameed and Khan gave their land for free, he added.
Hameed said he incurred a loss by not cultivating his land this season but he has no regrets. "I've also promised to provide a 5,000-litre water tanker free of cost," he said.
This village is upholding the spirit of unity in diversity at a time when religious unrest is rising in the country, said a grateful pilgrim.
Close