Power cut, ration cut, arrests, selfies with people pooping in open: Rajasthan races against ODF deadline
Officials in Rajasthan have been issuing orders ranging from funny and autocratic to embarrassing and bizarre to prevent people from defecating in the open and to meet the Swachh Bharat Mission deadline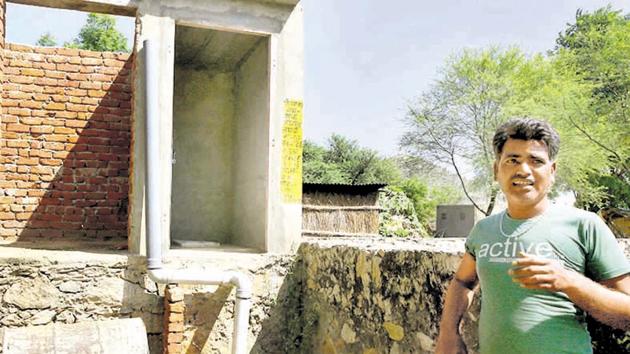 Updated on Oct 02, 2017 03:23 PM IST
From funny to autocratic to downright bizarre, the orders passed by the officials in Rajasthan to prevent people from defecating in the open have often triggered extreme reactions.
Sample these:
At least six villagers were arrested in Bhilwara for relieving themselves in the open.
Orders were issued to stop giving subsidised ration under public distribution system (PDS) to families with no toilets in a block under Jhalawar district.
In Jahazpur sub-division, orders were issued to disconnect the power supply to a village where only 19 per cent households had toilets.
In Karauli, women teachers at government schools have been told to mark their attendance with an early morning selfie clicked with men defecating in the open.
These are among some of the orders and directives passed and penalties imposed by the Rajasthan government, which is leaving no stone unturned to completely stop open defecation by 2019, the target set under the Swachh Bharat Mission (SBM), a flagship campaign of the Centre.
As the SBM completes three years on October 2, one thing is clear: Rajasthan has a long way to go before it is completely open defecation free (ODF). And denying work under MGNREGS, putting people behind bars or stopping the subsidized ration are just some of the unprecedented measure that the officials are adopting to make sure that people fall in line, build toilet at their home, and most importantly, use it.
Bhilwara's Jahazpur tehsil hit the headline in August this year when six people were arrested and charged under section 151 of CrPC for defecating in the open.
Law books say that under Section 151, an arrest is made, without orders from a magistrate and without a warrant, to prevent the commission of a cognizable offence. The person so arrested shall be detained in custody only for 24 hours.
The six people arrested in Jahazpur, thus, spent several hours in lock-up before being produced before a court that released them on bail after they furnished a bond of Rs 10,000 each and on condition that they would build a toilet within 15 days.
Jahazpur again hit the headlines after its sub-divisional officer, Kartar Singh, issued orders to disconnect the power supply to Gangithala village. Reason: the toilet construction in the village was abysmally low --- only 19% of the villagers, 322 of 1,556 households, had constructed toilets under the Swachh Bharat Mission. The district collector withdrew the order after widespread protests.
Women government school teachers in Karauli district of state were given the unenviable task of visiting fields near their village to stop people, most of them men, from defecating in the open. If they fail to mark attendance by clicking selfies in the fields, with the villagers out to relieve themselves, teachers will face disciplinary action from the department.
"Although we have been asked to stop women from defecating in the open, it is not necessary that we will only encounter women. Every day we see men defecating in the open and find ourselves in a very awkward situation," Anita, a school teacher, told Hindustan Times.
The drive, initiated by the Karauli district administration, involves teachers, anganwadi workers, auxiliary nurses, midwives and other stakeholders to promote Swachh Bharat Mission.
"We don't know what to do upon encountering men defecating in the open as it's embarrassing. It's expected from us that we will blow the whistle and stop them from relieving themselves in the open but practically it's difficult," added Anita.
Officials justify such moves. "At present out of 191 cities, such drives have taken place at more than 100 places," said Pawan Arora, director, directorate of local bodies.
In Jhalarapatan in Jahalwar, households without toilets were denied ration that they were eligible for under the PDS. Jhalarapatan BDO Jitendra Singh claimed that ration was denied to a couple of villages to motivate them (to build toilet).
Similar incidents were reported from Rajsamand district where PDS ration was denied to some beneficiaries. Some people were also denied work under MGNREGS in the district's Bhim tehsil and were asked to build toilets in their home first. However, the order was later withdrawn.
Under the SBM, the central and the state governments provide subsidy to rural households for construction of individual toilets. Households under the below poverty line (BPL) category, or scheduled castes and scheduled tribes in the above poverty line (APL) category, small and marginal farmers, and households headed by women can avail of the subsidy.
Close Story