'Serious' Azmat being treated at AIIMS, New Delhi
Apr 24, 2017 07:07 PM IST
Azmat Khan was allegedly beaten up by cow vigilantes along with Pehlu Khan at Behror in Alwar.
The condition of Azmat Khan, who was allegedly beaten up by cow vigilantes along with Pehlu Khan at Behror in Alwar district, continues to be "serious".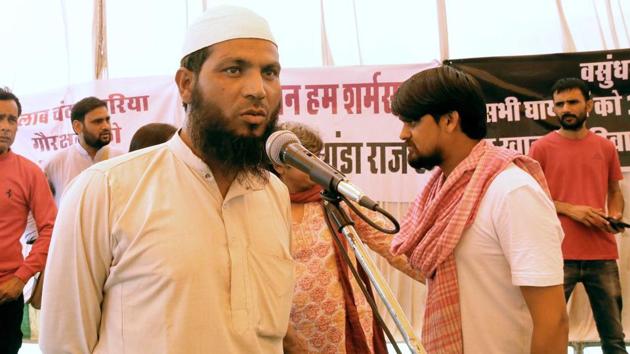 He is being treated at the AIIMS, New Delhi. "He has injuries in his head, fracture in spine, and his mental condition is also not normal," Yusuf Khan, Azmat's elder brother told HT.
Yusuf was in Jaipur on Monday to take part in a dharna organised by the PUCL and other organisations in front of the Assembly to demand justice for Pehlu Khan and others.
"Azmat and Pehlu Khan were in one vehicle carrying cows and calves they had purchased at a cattle fair in Jaipur. While they were returning to Mewat, some men on five motorcycles stopped them on the highway and started beating them mercilessly with belts and bats. Azmat fell unconscious just before he saw Pehlu Khan lying on the road," Yusuf said. "I think Azmat would have died on the spot, but a second vehicle with Pehlu Khan's sons came by after about 20 minutes and the cow vigilantes then focused on the three men who were also beaten up mercilessly. The police arrived late and took them to hospital," he said.
Azmat regained consciousness in the early hours of next morning. He has sustained severe injuries. Pehlu Khan died later with his family members maintaining that he was not given treatment.
Members of the Muslim community from Mewat, who were also present at the dharna, said cow vigilantes were terrorising and robbing people in the name of gau raksha. They have demanded immediate arrest of those who have been named in the FIR.
The organisers have also submitted a memorandum addressed to Prime Minister Narendra Modi and Rajasthan chief minister Vasundhara Raje to rein in cow vigilantes and ensure justice for Pehlu Khan, Azmat Khan and other accused in the crime.