Villagers pledge
₹

22 lakh for govt school infrastructure in Rajasthan

Students of government senior secondary school in Ogala village in Barmer sit either under a tree or in the verandah outside eight locked and unusable classrooms. Only three classes -- 9, 11 and 12 -- are held in classrooms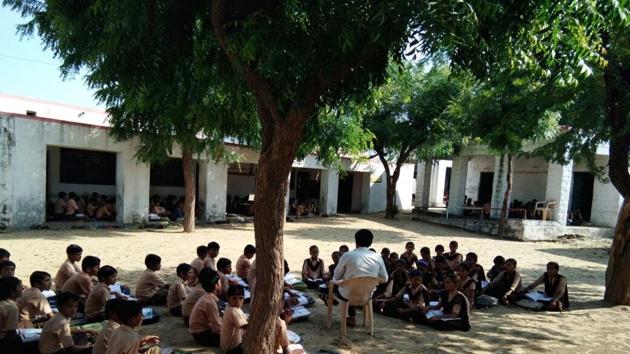 Published on Aug 21, 2017 07:58 PM IST
Hindustan Times | By Mukesh Mathrani
, Barmer
Students of government senior secondary school in Ogala village in Barmer sit either under a tree or in the verandah outside eight locked and unusable classrooms. Only three classes -- 9, 11 and 12 -- are held in classrooms.
When it rains, the classes are suspended.
But this Independence Day (on August 15), villagers took a pledge to change this. They pledged more than Rs 20 lakh as donation to improve the infrastructure and facilities at the school, which is the only senior secondary school in the periphery of six kilometers.
Principal Bhomaram Dehdu joined the school in June this year and was shocked at the condition of the building. The school has 497 students, 229 of them girls, but only nine teachers against the sanctioned strength of 18.
The 28-year-old thought of changing this. He discussed some ideas with his colleagues and on August 15, invited all the villagers to the school. After the celebrations, he asked the villagers if they liked to see their children studying under the sun.
"No one liked the building and the facilities here but most people, especially parents of the girls, didn't want to send their children far to another school. When principal sahab suggested donations to improve the school, everyone readily agreed," said Ashok Kumar Godara, who contributed Rs 31,000.
In no time, 105 villagers came forward and together pledged Rs 15.44 lakh. Another villager got up and said he will donate a functional computer lab, and yet another one said he will fund the CCTV cameras after the building is ready.
"We need at least 12 classrooms in good condition and some rooms for the staff," said the principal. The school, he added, will also develop ground for sports and begin computer classes.
Dehdu said donations will be taken through cheque. Name and numbers of donors have been recorded and they will be touched as work in school progresses. The school is maintaining a ledger for accountability and transparency.
To start with, the school collected five cheques amounting to Rs 55,000 for the building.
Barmer's district education officer (secondary) Om Prakash Sharma said now that the villagers have come forward to improve the school, the government will also pitch in.
"Under the Mukhaymantri Bhamashah Yojna, there's provision for contribution from government if locals collect fund for a school. The government contributes 50% more than the locals' donation," he said.
So for Ogala, after villagers' Rs 22 lakh, the government will donate Rs 33 lakh.
Close Story