Bengal Hindutva leader who took on RSS quits organisation he founded
Jul 11, 2018 07:27 PM IST
Tapan Ghosh, 65, left Hindu Samhati and is likely to shift his base to Jharkhand, where he wants to work among the tribal population.
Far-right Hindutva leader Tapan Ghosh, who took on the Rashtriya Swayamsevak Sangh (RSS) in Bengal by setting up Hindu Samhati 10 years ago, has severed all connections with his own organisation. A few of leaders have followed him.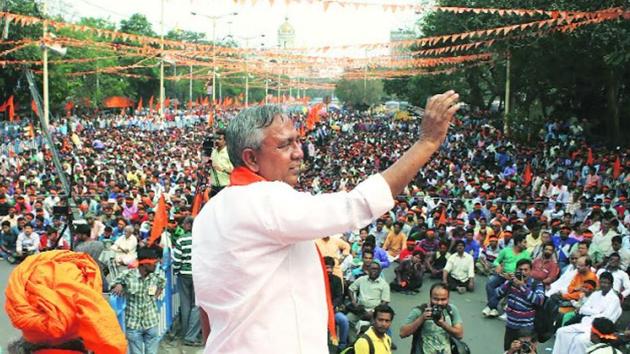 According to leaders of the outfit, who spoke on conditions of anonymity, 65-year-old Ghosh is likely to shift his base to Jharkhand, where he wants to work among the tribal population. Incidentally, Hindu Samhati already has some presence in the area.
Read: Hardline Hindu outfit in Bengal looks to eat into Sangh's gains
"I wanted to disband Hindu Samhati… There comes times when vested interests develop with an organisation gaining strength and stability… people start to feel a comfort zone… this is why Shri Krishna did not try to save Yadu-vamsa. Gandhi wanted to disband Congress… Mao Zedong had called for bombarding the headquarters, though he failed. I have decided to move on. Hindu Samhati exists. Only I will not be there," Ghosh wrote in a social media post on Tuesday that was also critical of 'present-day RSS'.
Ghosh may shift to Deoghar, where he will try to "reconvert" Muslims in Jharkhand to Hinduism.
"I have quit because the ideological commitment that drew me to this organisation nine years ago is missing since Ghosh left charge," said Devdutta Maji, vice-president, who too has resigned. Maji may join Ghosh in his new mission.
Read: Bengal-based Hindutva leader's speech in British Parliament draws ire
Hindu Samhati members said Ghosh completely disassociated himself from the organisation over the past couple of months but did not make it public. He stepped down from the post of president last year saying he wanted younger leaders to lead. He assumed the role of 'advisor.'
Ghosh however remained the key figure on the dais during the organisation's 10th foundation day ceremony on February 14 in Kolkata.
Controversy marked the event after a family of 14 people, who he claimed had "re-converted to Hinduism," was presented on the dais.
Leaders of Hindu Samhati frequently praised Trinamool Congress regime for 'good governance' and criticised BJP for 'making false promises to Hindus. This prompted both BJP and CPI(M) to dub it as "Trinamool's Hindutva wing."
"Tapan Ghosh's declaration means he takes himself beyond Hindu Samhati," said Hindu Samhati president Debtanu Bhattacharya.
Read: Minors behind FB posts that triggered communal clashes in Bengal granted bail, now in Hindutva outfit's custody
"Tapan Ghosh's decision will not affect the organisation though, as we work on the basis of collective leadership," Bhattacharya said.
Ghosh, who was a pracharak of RSS since 1975, broke away in 2007, accusing RSS of 'lacking courage and commitment'.
Hindu Samhati was founded in 2008 and has organisation in 20 of Bengal's 28 districts, apart from newly- opened units in Assam and Jharkhand. Its main support comes from dalits, a community that the RSS in Bengal is desperately trying to win over.
Read: Teen behind Facebook post that led to Basirhat clashes re-arrested, booked for attempt to murder
In October last year, Conservative British MP Bob Blackman invited Ghosh to deliver a speech at the House of Commons. In June, his Twitter handle, that had about 45,000 followers, was permanently suspended by Twitter authorities for violating rules on "hateful conduct."
Hindu Samhati has tried to distinguish itself from RSS by stressing on its 'Bengali' nature. Its leaders have criticised RSS for trying to impose 'vegetarianism' among predominantly non-vegetarian Bengalis.
Its main religious slogan is 'Jai Ma Kali' while 'Jai Shree Ram' remains the slogan of other saffron groups.