CPEC: Pakistan prostrating before Chinese imperialist designs, Pak scholar says in Kolkata
China Pakistan Economic Corridor has sparked off fears of China 'taking over' his country, Pakistani author S Akbar Zaidi tells HT.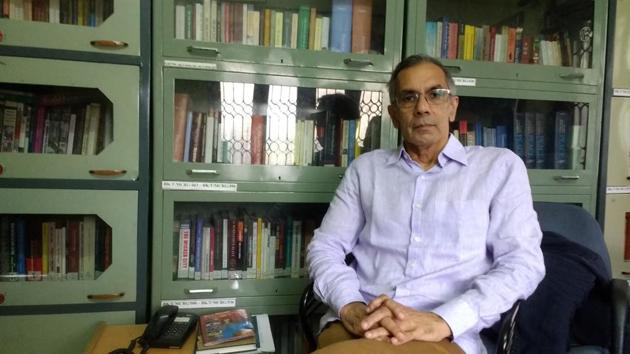 Updated on Jun 13, 2017 03:42 PM IST
Professor of political economy in Columbia University and Karachi University, S Akbar Zaidi, who lives in Karachi is one of the Pakistani intellectuals who are opposed to his country's China strategy. In Kolkata to deliver a lecture on 'Has China Taken Over Pakistan? arranged by the Mahanirban Calcutta Research Group, Zaidi spoke to HT.
Q. Let's start with the title of your talk. Has china taken over Pakistan?
A. China Pakistan Economic Corridor (CPEC) is a Chinese project for protecting and expanding Chinese interests, and Pakistan just happens to be part of the geographical terrain. Let me now quote Senator Tahir Mashhadi, chairman of the senate standing committee on planning and development, to reflect on the question. He has warned, "Another East India Company is in the offing."
Q. Does that mean Pakistan turning into China's economic colony?
A. From the influence of American imperialism for most of its existence, Pakistan gave way to Saudi intrusion in domestic, cultural and social affairs, and now has prostrated itself in front of Chinese imperial designs. Pakistan will temporarily gain from Chinese investment in the infrastructure and connectivity sectors. There will be some job creations, especially for the unskilled labourers and Pakistan will immediately gain from power generation. Its GDP could shoot up by 3%.
Read: China-Pak corridor: Scholar says stop project to sort out differences with India
However, several experts have cautioned Pakistan about how Chinese terms and investment turned sour in Sri Lanka, Tajikistan and several parts of Africa. In both Sri Lanka and Tajikistan, with rising costs and debts incurred by the host countries, large chunks of land were handed over to the Chinese in lieu of unpaid funds. There are fears that Pakistan could be reduced to being a 'vassal state'.
Q. How would you weigh the pros and cons of the economic corridor?
A. Perhaps the most important thing we don't know, despite the government's claim that it is the 'most scrutinised project' ever, is: What will CPEC cost, now, and later? Whatever we have got to know is because of media leaks. Islamabad will reportedly award contracts for all CPEC projects to the Chinese, who may or may not partner with local firms, and may or may not, procure material from local manufacturers.
Read: The China-Pakistan Economic Corridor is the Great Game of this century
Trade provisions are unfairly tilted towards Chinese companies and many Pakistani businessmen are afraid that they will be wiped out. People have not yet been told whether the Chinese investments are grants or loans. One of the terms reportedly says the Chinese will use Pakistani media to disseminate Chinese culture in Pakistan for the alleged purpose of 'strengthening mutual ties', while no one knows whether Pakistanis or Chinese personnel will man the elaborate electronic surveillance system to be installed by the Chinese.
Q. Is this why the Chinese foreign affairs ministry is applauding the role of Pakistan in CPEC?
A. It shows the two countries are working very closely to make it a success. The country, however, has been subservient to the Chinese and its appeasement of Chinese interests around CPEC.
Q. There are reports of planned Chinese military base in Pakistan. What is your reaction?
A. We in Pakistan have not yet got any hint of possible Chinese military base. The Pakistan Army itself is raising a whole new battalion to protect CPEC.
Q. What impact could CPEC have on Indo-Pak relations?
A. Pakistan's obsession with China and CPEC bodes ill for any sort of rapprochement between India and Pakistan unless, of course, only if the Chinese initiate such moves, and if it fits into their grand design in the region. With China taking over Pakistan, providing it with undisclosed amount of investments, any argument of increasing trade and economic cooperation between India and Pakistan lose all urgency. When you have China, who needs India?
Q. How strong is the voice in Pakistan in favour of reducing Indo-Pak tension?
A. It is getting louder; especially the young generation appears keen on friendship between the two countries rather than enmity. There is great demand of Indian entertainment content in Pakistan, but possibly it is cricket that can play the most important role. Indo-Pak relations significantly improved following India's tour of Pakistan in 2003, but things changed after the Mumbai attack of 2008 and have not improved since. Even at this juncture, resumption of Indo-Pak cricket series can be the best starting point.
Close Story