Violence in Bengal over FB post; Mamata alleges Governor threat
Police arrested the culprit, a class 11 student, on Sunday night. But it failed to quell the anger of the mob.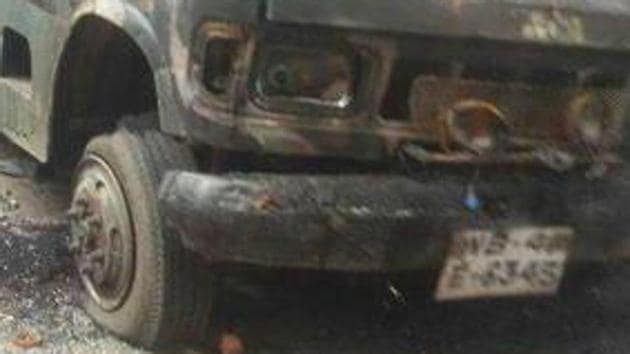 Updated on Jul 16, 2017 07:10 AM IST
Dozens of shops and houses, and at least six police vehicles, were torched by a mob in West Bengal's North 24 Parganas district over the past two days after a class 11 student posted a blasphemous message on Facebook.
The Hindu student was arrested on Sunday night and prohibitory orders clamped, but vandalism continued throughout Monday and Tuesday as the administration did not inform people about the arrest, claimed Quazi Abdur Rahim, the MLA of Baduria, where the incident happened.
Chief minister Mamata Banerjee blamed BJP for inciting the violence, and also alleged that the governor Keshari Nath Tripathi had threatened her and said he was acting like a "BJP block president".
"He telephoned me and threatened me. The governor cannot threaten me. He should know that he is a nominated person. I have told him that you cannot talk to me like that," the visibly angry CM told reporters in Kolkata.
On the communal violence, she warned leaders of both communities that "I won't spare anybody fuelling communal clashes".
"BJP may provoke, but why will you walk into the trap? Those who have destroyed government property will have to pay for it," she said.
The governor, however, expressed surprise at Mamata's attitude and language.
"The talks between the Hon'ble Chief Minister and the Hon'ble Governor were confidential in nature and none is expected to disclose it," said a statement issued by the governor's office, adding that there was nothing in it by which the CM may have "felt insulted, threatened or humiliated".
"It is proper for the Hon'ble Governor to bring to the notice of the Hon'ble Chief Minister any serious grievance made by any member of public or any serious event happening in the state. The Hon'ble Governor cannot remain a mute spectator of the affairs in the state," the statement said.
BJP state president Dilip Ghosh said the governor can "certainly interfere if there are repeated incidents of violence".
Efforts to Quell Violence
Angry Muslim mobs set fire to shops and houses belonging to Hindus in Baduria, Swarupnagar and Taki blocks of the district bordering Bangladesh. The car of the additional police superintendent of the district was also attacked on Tuesday.
The Centre rushed 300 paramilitary personnel to the spot, which is about 50 km from Kolkata.
State food minister Jyotipriyo Mullick said he was at the spot tackling the situation whereas the district police superintendent, Bhaskar Mukherjee was not available for comment immediately as he was in a meeting.
MLA Rahim accused the administration of not making any "efforts to spread the news of the arrest", and said, "Some fundamentalist forces are behind this vandalism. The moment we manage to quell agitation at one place, it starts somewhere else."
He also said that the central paramilitary forces were deployed late, due to which the situation went out of control.
On Monday morning, All India Sunnat Al Jamayat, a non-political Islamic social welfare trust in the area, appealed to Muslims through social networking sites to refrain from erecting road blockades as it was the day of ulta-Rathyatra.
At many places, the procession, which concludes the nine-day Jagannath yatra, could not take place.
In nearby Basirhat South, Trinamool MLA Dipendu Biswas said they were "maintaining close contact with the people to avoid any untoward incident".
"We took precautionary measures and managed to avoid clashes and violence in my constituency," said Rafiqul Islam, MLA of Basirhat North.
"Some people blocked roads in my constituency on Monday and Tuesday. But after much persuasion we managed to lift it," he said.
Leaders' reactions
"We demand an all-party meeting an army deployment. The debate on phone call is unwarranted," twitted CPI(M) state secretary Suryakanta Mishra.
Union minister Babul Supriyo described the pieces of information coming from the areas as "dangerous facts".
State BJP secretary Sayantan Basu said there was a total collapse of law and order in Baduria, and called for the immediate deployment of central to protect Hindus there.
On Tuesday afternoon, police prevented BJP state general secretary Debashri Chowdhury from reaching the spot. In protest, BJP workers started a roadblock at the district headquarters Barasat.
Communal Incidents in Bengal
The Baduria clashes are the latest communal incidents in the state. Since October last year, at least 10 districts of West Bengal have seen similar communal incidents which are proving to be a major challenge for the state government.
Riots took places at Kaliachak and Chanchol (Malda district), Jalangi (Murshidabad), Chandannagar and Bhadreshwar (Hooghly), Bhagabanpur (East Midnapore), Kharagpore (West Midnapore), Hajinagar and Kanchrapara (North 24 Parganas), Sankrail and Dhulagarh (Howrah), Katwa, Jamuria and Kanksha (Burdwan).
North 24 Parganas district has the distinction of being the most populous district in the country. According to 2011 census, Muslims constitute 26% of the population.
Incidentally, in May this year, Mamata had told senior police officers that they should beat up anybody who foments communal trouble in the state.
"Don't see their colour or political affiliation. If anybody dares to foment communal trouble, give him a sound thrashing," she had said.
(With PTI inputs)
Close Story
Personalise your news feed. Follow trending topics