Mithila Palkar spills the beans on her life on social media and more
Mithila Palkar is one of the most-loved celebrities on the internet today, and for good reason! Health Shots caught up with this firecracker on Women's Day to know more about her life behind the screens.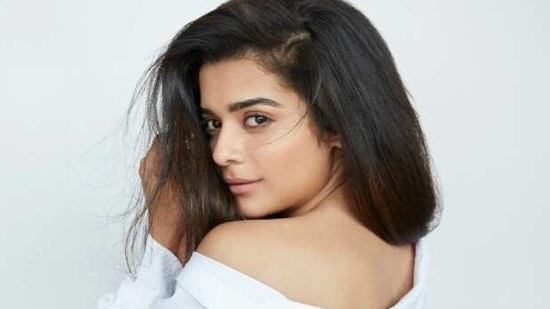 Published on Mar 09, 2021 06:48 PM IST
HealthShots | By Team HealthShots
Years ago, a curly-haired girl lit up the web with her beaming smile and a viral 'cup song' video, and since then there's been looking back. Today, Tribhanga actor and digital disruptor Mithila Palkar is the darling of the audiences, and netizens wait with bated breath for all her projects.
Whether it's her character Kavya from Little Things or Meera from Girl in The City, what instantly strikes you is how real and relatable they are. There's an endearing quality about them, and that's very much a part of Mithila's real life persona. She's warm, lively, and isn't afraid to speak her mind, and that's what makes her stand out amid the crowd of content creators and influencers.
Health Shots caught up with this powerhouse on Women's Day to know more about her life behind the screens. Not many know that Mithila is a trained classical dancer, and believes in the power of this form to maintain her physical and mental fitness. She also opens up about her life on social media, and her strategy to overcome the challenges that come her way.
MITHILA'S LOVE AFFAIR WITH CLASSICAL DANCE AND MUSIC
Mithila has always been drawn to classical forms of dance and music, because of the strong foundation they build. Although she learnt Kathak a few years ago, she had to give up on her practice, when work took over. Fortunately, the lockdown gave her the opportunity to revive her passion, and she couldn't be happier!
Also, read: Shanaya Kapoor's core-strengthening belly dance moves is all the fitspo you need
"Every time I decided to learn dance officially, I always knew I'd pick a classical dance form. I always appreciated the art form of Kathak, also because many people in our family would go to classes or I had friends who learnt it, and I watched their recitals. That's how my love for Kathak kept growing. Then in Bollywood, there was Madhuri Dixit, who I have always admired. So, all of that came together and that's when I decided to finally learn it on my own. I think it was around 2014 or 2015 that I went to classes, I also gave exams. Then, work took off and I didn't have much time to give to my dance. But in 2020, the lockdown happened and suddenly I found myself with a lot of time. I felt like getting back to my dance, because I missed my Kathak. That's when I called my guru, and she was happy to teach me. Plus it was online, so it worked," she says.
"KATHAK HELPED ME TO ACHIEVE THERAV", SAYS MITHILA
"When you go to school, it is the basics that are the most important, and that's how you move forward. That's exactly how it is with Kathak. Also, the whole therav of this dance form is so commanding, and I think I needed it in life, because I am always jumping around. There is so much grace, expression, and so much freedom in that dance form, and it has stayed with me," adds Mithila.
FITNESS THROUGH DANCE
2020 was a hard year for everyone, because the challenges that came our way were unannounced. No one knew what's going to happen the next moment and it is exactly this uncertainty that troubled Mithila too! But instead of indulging in overthinking, she decided to channelise her energies into fitness and dance.
"I would attribute my fitness during lockdown both to my dance guru and my trainer, who I work out with. I feel it was important to keep both my body and mind in check. I would look forward to those two days of Kathak and my workouts. At that time, we were all furious, anxious, and upset, especially during the beginning of the lockdown, because none of us knew how to deal with it. And I didn't want to indulge in my overthinking, anxiety or what's going to happen next. That's why I engaged in Kathak, because it wasn't just physical fitness I was looking at, but it also gave me so much peace mentally," adds Mithila.
Also, share: We asked 4 dancers how they are coping with the pandemic. Their answers will inspire you
LIFE ON SOCIAL MEDIA
Mithila has a loyal base of 2.8 million followers on Instagram, and that means she's always under public scrutiny! But for someone whose journey began on the web, she feels she's eternally grateful for all the love. Trolls have never affected her as much, mainly because she tries not to pay too much attention to them.
"I don't get too affected by trolling, because it's a part and parcel of being on the internet. I feel the internet gave me my identity, my home, and that's where I belong, and if it wasn't for these people who have supported me, I wouldn't be here. They have given me so much love over the years, and I am just eternally grateful. The love is so strong that you do not want to pay attention to the other stuff. If there's one hate comment, there are 50 love comments. On the internet, nobody is forcing you to watch something, read something, that's a choice even I can make. Honestly, hate comments rarely happen," she says.
That being said, Mithila says sometimes these things can get to people, but it really is about making a conscious choice to stay away from such negativity.
"Sometimes hate comments can get to you, ki ye ek insaan ne mujhe kyu aisa bola. Our world right now is so overwhelming, because we are constantly on our phones, on social media, we are constantly exposed to other people's lives, and sometimes we over indulge in these things, but that backfires. While you are keeping your physical fitness in check, also pay attention to your mental fitness, that's very important. Unfortunately, we do not pay much attention to it," adds Mithila.
Also, read: I lost 18 kilos in the lockdown with diet and virtual dance classes. This is my story
"BEING OUT IN PUBLIC IS NOT THE SAME ANYMORE", SAYS MITHILA
"There is always someone who will recognise me or want to click a picture with me today. I think it isn't a challenge for me, because I lap it up. It's a challenge for people around me. For example, my school friends and I live very close to each other, and growing up, we have always gone to Shivaji park. It was our hangout place, this was a scene. But now we would rather meet at home, because my friends feel people will click pictures with me and we won't be able to chat properly. The friends who I have grown up with have also adapted to this lifestyle, they have been very sweet and accommodating,"says Mithila.
HER MESSAGE ON WOMEN'S DAY
As someone who millions of women look up to, Mithila has a piece of advice. "Be fearless and you do you," she says.
(This story was originally published on HealthShots.com)
Close Story