Lok Sabha election 2019: Senior BJP leader in Odisha quits, accuses Union minister Pradhan of running fiefdom
Hindustan Times, Bhubaneswar |
Debabrata Mohanty
Mar 26, 2019 11:35 PM IST
Subash Chouhan, who was denied a ticket for the Bargarh Lok Sabha seat, resigned from the party protesting the way it was being run.
Ahead of the Assembly and Lok Sabha elections next month, the BJP in Odisha got a major jolt on Tuesday when senior leader and its former candidate from Bargarh Lok Sabha seat, Subash Chouhan, resigned from the party protesting the way it was being run.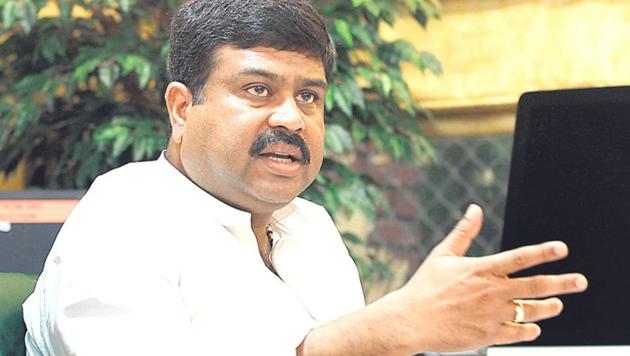 Chouhan, 52, had lost the 2014 Lok Sabha polls from Bargarh constitueency in western Odisha to BJiju Janata Dal's Prabhas Singh by a little more than 11000 votes. Though he expected renomination from Bargarh, he was let down when the party announced the name of Suresh Pujari, BJP national secretary who too had lost the 2014 Lok Sabha polls from neighbouring Sambalpur Lok Sabha constituency.
"I had nurtured Bargarh for last 5 years. But I was denied a ticket and asked to stand from the Bijepur assembly seat. I am hurt not just because I did not get ticket. BJP is in the pocket of a particular person and Sangh parivar is giving him protection. The party is like his fiefdom. Hundreds of Swayamsevak who had worked for BJP are feeling let down," said Chouhan after submitting his resignation letter in the state party office .
BJD sources said Chouhan is likely to join the BJD. A former national head of Bajrang Dal, Chouhan, an OBC, has tremendous organisational strength in Bargarh and would add to BJD's election muscle in western Odisha. Though he would not contest the 2019 polls, BJD sources said he may be sent to Rajya Sabha.
Also read: Lok Sabha elections 2019: BJP gets a lawyer and former BJD man to fight Naveen Patnaik in Hinjili and Bijepur
On Monday, Chouhan gave vent to his feelings in a long Facebook post. "After I was denied Lok Sabha ticket, my workers and supporters were threatened. This is an insult to OBCs of western Odisha. When I argued that Dharmendra Pradhan (union petroleum minister) should be BJP candidate from Bijepur assembly constituency against Naveen Patnaik as he is the most powerful leader in the party, I was shouted down," Chouhan wrote on Facebook.
The BJP's woes also continued to overflow with another senior BJP leader in tribal-dominated Mayurbhanj district, Rajkishore Das joining BJD after he was ignored by the party for Morada assembly constituency. Das also blamed Union minister Pradhan for ignoring him.
"Since the age of 8, I had been working for the RSS and dedicated 40 years for the service of the BJP. But a Union minister wielding his power has been trying control everything in the party. I have been sidelined for the last four years. At the behest of the Union minister, the party had been ignoring me in political activities in the district," Das alleged.
Resentment over ticket distribution may mar prospects of party candidates in coastal Bhadrak district. Two days ago, the supporters of Dinabandhu Pati locked up the party office in Basudevpur assembly constituency opposing ticket to Madhabananda Mallick.