Lok Sabha elections 2019: Rahul Gandhi, Tejashwi Yadav share stage in Samastipur
In a show of solidarity within the alliance, Tejashwi showered praises on Gandhi, saying that the Congress president knows how to keep his promises and the county needs a Prime Minister like him.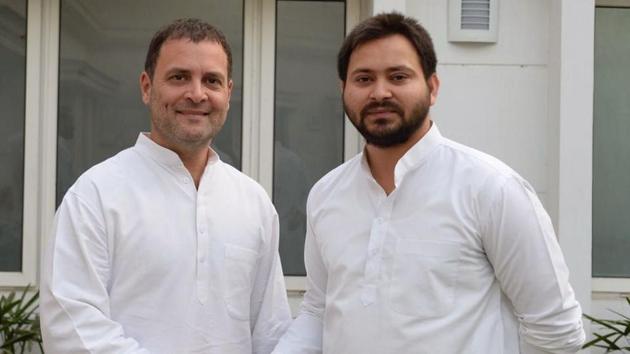 Published on Apr 27, 2019 02:01 AM IST
In a show of unity within the opposition Grand Alliance, Congress president Rahul Gandhi shared stage with RJD leader Tejashwi Prasad Yadav on Friday at Samastipur, doing so for the first time in this election season, to campaign for Congress nominee Ashok Kumar. Kumar is contesting from the reserved Samastipur parliamentary constituency, which will go to polls in the fourth phase of elections on April 29.
In his speech, the Congress president was severely critical of Prime Minister Narendra Modi, accusing him of helping fugitive businessmen and neglecting the country's poor, especially the farmers. He also criticised the centre's demonetisation move, saying that the abrupt and arbitrary nature of the move caused inconvenience for millions. Gandhi also spoke at length about the Congress's proposed NYAY scheme, which promises a monetary benefit of Rs 6,000 per month to extremely poor families across the country.
In a show of solidarity within the alliance, Tejashwi showered praises on Gandhi, saying that the Congress president knows how to keep his promises and the county needs a Prime Minister like him. The RJD leader also praised the NYAY scheme, describing it as a programme which had the potential of bringing a change for the poor in the country.
"Bihar would be one of the biggest beneficiaries of the (NYAY) scheme. 25 crore families would benefit in the country, including 5 crore women would get Rs 6,000 in their account every month, which translates to Rs 72,000 a year and Rs 3.60 lakh in five years. Has PM Modi given Rs 15 lakh? It cannot be given because it is not realistic," Gandhi said.
Addressing the crowd, Gandhi asked whether they wanted a pro-poor government at the centre or a capitalist oriented government run by BJP. Criticising BJP's affinity for capitalism, he accused the PM Modi-led central government of allowing fugitive businessmen like Mehul Chowksi and Nirav Modi to leave the country, who had defaulted on repayment of loans worth thousands of crores . " We will take back the money from these defaulters and give it to the poor."
This was Gandhi's fourth election rally in Bihar. The Congress president arrived at 1 pm, two hours late from his scheduled time of arrival due to a technical snag in his aircraft. Earlier in the day, Gandhi had taken to Twitter to announce the possible delay in his arrival at Samastipur.
The Samastipur rally was crucial for the Grand Alliance as Gandhi and Tejashwi shared stage for the first time since campaigning for the Lok Sabha elections kicked off in March. The rally is also being seen as a deliberate move by the GA to send across a message of unity among the allies, as speculations of rife within the alliance partners reached a crescendo in the past few weeks over allotment of the Darbhanga and Madhubani Lok Sabha seats. While Darbhanga finally went to RJD, Madhubani has been allotted to GA ally Vikassheel Insaan party (VIP). Senior Congress leader and former minister Shakeel Ahmad is contesting from Madhubani as an Independent.
Today's camaraderie between Gandhi and Tejashwi will give the opposition alliance much needed boost before the fourth phase of elections. The Congress president, who began his speech in Maithili, took a dig at PM Modi, saying his catchy slogan of 'Achhe din aayenge' during the 2014 Lok Sabha elections fizzled out within two years of the NDA government being in power, and was replaced by 'Chowkidaar chor hain'.
In 2014, LJP's Ram Chandra Paswan had won from Samastipur, defeating Congress candidate Ashok Kumar by a narrow margin of 6,872 votes.
Apart from Gandhi and Tejashwi, RLSP chief Upendra Kushwaha, BPCC in-charge Shaktisinh Gohil, Congress state president Madan Mohan and Congress leaders Premchand Mishra and Akhilesh Prasad Singh were also present at the rally. VIP's Badrinath Purve, GA candidate from Madhubani was also present.
Close Story