An accident reported every two hours in UP: Fatal accidents in the state
May 05, 2017 11:22 AM IST
Uttar Pradesh reported the highest number of deaths - 23,219 - due to road and rail accidents in 2015, according to NCRB data
Uttar Pradesh is not new to road accidents. The death of 14 people after a truck fell into a roadside canal on Friday morning in Etah is one such incident. According to statistics from the National Crime Records Bureau (NCRB), one accident due to dangerous driving is reported every two hours from the state.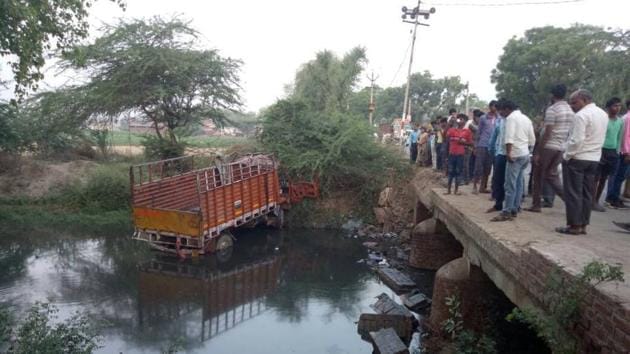 The state reported highest number of deaths — 23,219 — due to road and rail accidents in 2015, according to NCRB data. This included 8,109 deaths due to careless driving. Here are some recent fatal road accidents in Uttar Pradesh:
April 23, 2017: Three killed and four injured when an SUV hit a fallen tree in Mudkutti village of Basti district in Uttar Pradesh
Jan 19, 2017: As many as 12 students and the driver of the school bus they were travelling in were killed and about two dozen other children injured when their vehicle collided with a sand-laden truck amid in Etah district's Aliganj area.
Feb 14, 2017: Eight persons were killed when an ambulance rammed into a stationary truck in Sant Kabir Nagar district of Uttar Pradesh early morning.
Oct 25, 2016: A 42-year-old man was killed and over 35 injured when a bus overturned in Jarwal road area of Uttar Pradesh's Bahraich district.
June 5, 2015: As many as five people were killed after their car hit a divider on the Yamuna Expressway in Mathura district.
Feb 13, 2015: Three people were killed and over a dozen injured when an ambulance overturned and hit a bike in Chaurasi area in Unnao district.
May 18, 2014: As many as eight persons, killed and 10 others injured when a tempo collided with a truck in Mirzapur district of east Uttar Pradesh
Dec 2, 2014: Three women were killed and 24 others injured when the tractor trolley in which they were travelling overturned near Kallanpur area in Fatehpur district.
Dec 12, 2013: As many as 14 people were killed when a speeding truck rammed into two vehicles in Sitapur on Lucknow outskirts.