Corruption in payment for oxygen at BRD Medical College, says UP health minister
Published on Aug 16, 2017 03:58 PM IST
"For a population of 22 crore, health services in UP are not adequate. Please give me eight to ten months to improve the situation."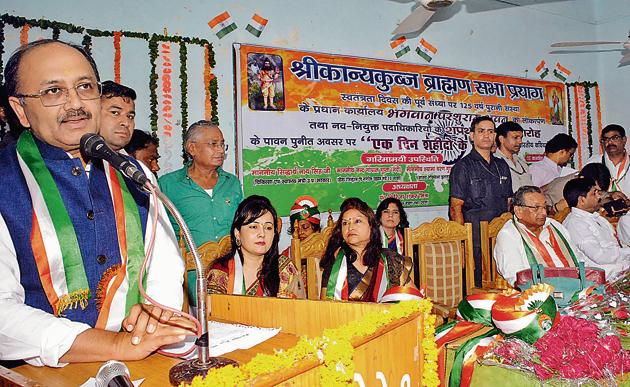 Uttar Pradesh health minister Siddharth Nath Singh on Monday claimed that there was corruption in payment for oxygen cylinders at Gorakhpur's BRD Medical College, where over 30 children died in 48 hours last week. He said the medical college principal had been suspended due to the same reason. He also referred to 'commissionkhori' (payment of commission).
Speaking at a function at Hindustani Academy here, the minister said oxygen was being supplied by the firm Inox to the medical college earlier. From where did another firm Pushpa Sales enter the supply chain in 2014 was an issue that needed to be probed, he said.
"As against the demand of Rs 68 lakh for purchase of oxygen cylinders at the hospital, the Yogi Adityanath government had released Rs 2 crore on August 5. The hospital administration made only Rs 11 lakh payment which will be investigated thoroughly," he said.
Referring to his recent statement about the high number of infant deaths in August over the years, the health minister blamed the media for presenting his views in a wrong way. He also said that investigation was on and the guilty will not be spared.
Singh asserted, "The infants did not die due to lack of oxygen'.
The health minister said 38 districts in UP were affected by encephalitis and the state government had organised large-scale vaccination against the same in April.
"For a population of 22 crore, health services in UP are not adequate. Please give me eight to ten months to improve the situation," he said.
Read more| Gorakhpur tragedy: 'Jolted' Varun Gandhi to build children's hospital in Sultanpur
Meanwhile, Singh, who has drawn flak over his statement that "August sees a high number of deaths", was also shown black flags by student leaders associated with the Samajwadi Chhatra Sabha when his vehicle entered Allahabad on Monday afternoon. The minister, who represents Allahabad West assembly constituency, was travelling from Lucknow by road.
Police detained some workers in this connection. No FIR was registered against the workers till reports last came in.
The SP students' wing workers had thrown tomatoes at the health minister's residence in Rajapur on Sunday.