How four sick cows sent a district into panic mode in UP's Bareilly
Hindustan Times, Bareilly |
Chandan Kumar
May 15, 2017 06:01 PM IST
District officials in Bareilly were on their toes through Friday night after receiving word that four cows in a village had taken ill. Government vets were rushed to the spot while police kept a very close watch on the situation in hopes of avoiding a repeat of any cattle-related violence, such as in Alwar.
When four cows of Shamsuddin Saifi, a 52-year-old marginal farmer in Bareilly, fell ill on Friday, his first reaction was to call the caretaker of the nearest animal shelter. Little did he know that his call would galvanise the entire district administration into action.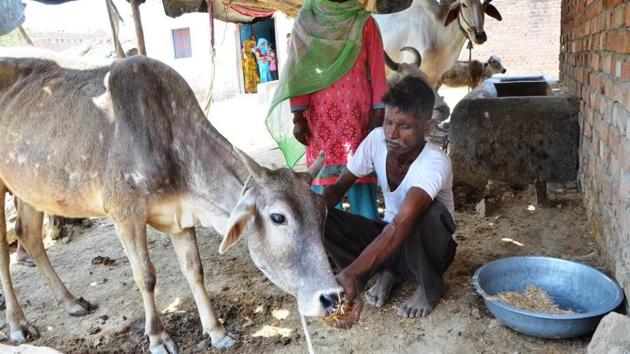 The cows had returned after grazing in a nearby forest at 6:30 pm and were "foaming at the mouth." Responding to Saifi's call, the in charge of the animal shelter called the district veterinary officer (DVO) and requested him to send veterinary doctors to Saifi's village Chaubari, 12 km from the district headquarters. Apart from the DVO, the caretaker also informed the district magistrate, initiating a relay of calls among senior district officials
At 9 pm, the newly appointed DM Pinki Jowel, called her subordinate, assistant district magistrate (ADM) Alok Kumar and asked him to ensure availability of veterinary doctors and keep an eye on the situation in the village. "The knee jerk response was to prevent any Alwar-like incident in Bareilly," said a senior district official on condition of anonymity.
Within half an hour, two veterinary doctors with assistants were rushed to Chaubari. They were followed by a police team, headed by station house officer of Cantonment police station, who was asked to provide briefing on the security situation in the village. Was the village tense? Were people gathering near the spot? Who was the village head? Was there a possibility of communal tension? The SHO was asked to give inputs about each and everything.
Within an hour, the animal shed outside Shamsuddin's house turned into a makeshift hospital. The veterinary doctors -- specialists in medicine and enterology -- were busy reviving the four cows whose condition was deteriorating rapidly. "The cows showed symptoms of poisoning as their stomachs were dilated," said Dr Ajay Kumar, one of the two veterinary doctors.
The medical team was guarded by over 30 police personnel under the SHO, who was giving regular inputs to senior officials about the situation. "Miscreants might have used it as an opportunity to disturb peace in the area so we remained on the alert while the doctors were treating the cows," said SHO Kamal Singh Yadav.
The vigil continued till 1 am on Saturday. Three of the four cows could not be saved but the doctors revived the fourth. The carcasses were shifted to Bareilly for postmortem examination. The police team also returned.
On Saturday, police registered an FIR under section 429 (mischief by killing cattle) of Indian Penal Code on the complaint of Shamsuddin. They are awaiting the postmortem report to add charges.
Meanwhile, the family is slowly recovering form the loss. "The animals which died were milch cows and a source of income to my family," said Saifi who also owns two oxen and a buffalo to augment his income. Saifi 's is one of the seven Muslim families living in the village. But his religion was never an issue till last evening. "Everyone who has met me since last evening has inquired about my religion. I wonder why," said Saifi. When asked about the death of the cows he responded," They were killed but I don't know the killers, neither their religion."