Lucknow metro fails  to meet the launch deadline of March 26
Out of the eight stations from Transport Nagar to Charbagh, only one is nearing completion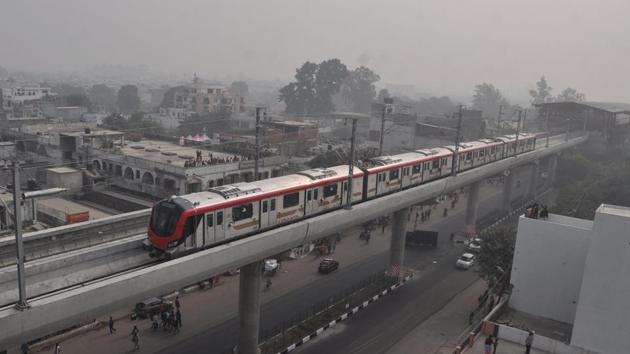 Published on Mar 27, 2017 01:05 PM IST
The official launch of Lucknow Metro, scheduled on Sunday (March 26) failed to take off as for the first time since the start of the project, the Lucknow Metro Rail Corporation (LMRC) officials were unable to keep tryst with the deadline which they had set for themselves.
Officials of Lucknow Metro Rail Corporation (LMRC) said that it was disappointing that the metro was not rolled out officially because of some technical snags .
To note, Lucknow metro was a much publicised project of the erstwhile Samajwadi Party government in the state led by Akhilesh Yadav.
Much politics was played over the 8.9 km stretch from Transport Nagar to Charbagh during the elections too. Former chief minister Akhilesh Yadav touted the metro project as an outstanding achievement of his government. During his election rallies, he blasted the Narendra Modi-led central government for its efforts to delay the project several times.
But the Bharatiya Janata Party retorted that the Samajwadi Party must not claim ownership of a project which was funded 80% by the centre.
Earlier, on March 17 this month, minister of state for railways Manoj Sinha had made it clear that Lucknow metro would take at least four months from the day the Research Designs & Standards Organisation (RDSO) submitted its report to the railway ministry. With this, he put a full stop on the dates of official launch of Lucknow metro.
Not only that, Sinha also came down heavily on the outgoing Samajwadi Party government for misguiding people on the launch date.
He said that officials of railways and others knew well how much time ministry of railways and commissioner railway safety would take before giving final clearance for official launch of the metro.
LMRC officials also admitted that out of the eight stations from Transport Nagar to Charbagh, only Krishna Nagar station was nearing completion while other stations would require at least two more months to get completed.
Read more: Smart cards to ensure smart travel in Lucknow Metro
Close Story