Lucknow's Gol Darwaza— Caught in the cobweb of encroachments
The structure has been encroached upon and needs a facelift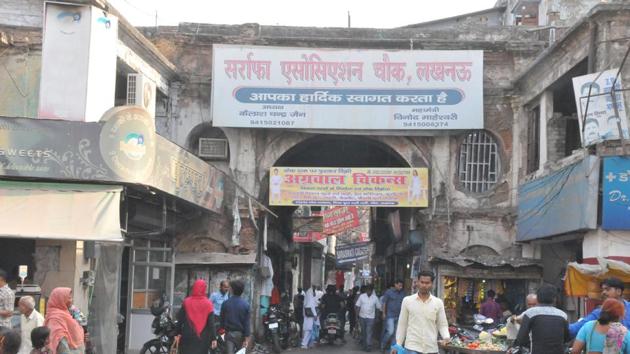 Published on Apr 19, 2017 01:02 PM IST
Lucknow, Hindustan Times |
, Lucknow
HT Correspondent
One of the famous landmarks of the city of nawabs– Gol Darwaza at Chowk— tops the list of heavily encroached Nawabi era structures. Its custodian Hussainabad and Allied Trust (HAT) is yet to chalk out a roadmap to infuse life into the 'decaying' structure.
It was in 2016, the then district magistrate Raj Shekhar had directed HAT and had also roped in Indian National Trust for Art and Cultural Heritage (INTACH) to prepare a Detailed Project Report (DPR) for the project, but nothing has been done so far.
Gol Darwaza, a famous gateway, came up during the regime of Nawab Asaf-ud-Daula. It used to be the most famous landmark of the city. "It came up at a time when Chowk market–a typical Indian bazaar street replete with unbelievably narrow houses and large markets was the centre of awadh. The imposing darwaza dwarfed all and gave some semblance of structure to the area," said Yogesh Praveen, a noted historian who has penned down several books on the city of nawabs.
A famous book –Tareekh-e-Lucknow, by Syed Agha Mahdi based on the historical structures of Nawabi era, describes Gol Darwaza as the most preferred joint of Nawab Asaf-Ud-Daulah where he loved to fly kites. The book also mentions many episodes and tales of the noble Nawab and the commoners. It also says that Gol Darwaza used to hold a distinct position among the masses who used to take marriage processions through its gateway. It has also witnessed several processions and court arrests during Swaraj movement.
Officials with HAT now say they are not aware of any restoration. "No such restoration work is in progress at Gol Darwaza," said Nasir Naqvi, officer on special duty HAT. He said the structure has been much encroached upon and needs a facelift . At present the darwaza has become a point to erect billboards.
Read more: Awadh royal family scion plans stir to save heritage buildings
Close Story