Sand mining poses threat to Allahabad's Sujawandev Temple on rock island in Yamuna
Updated on May 29, 2017 03:50 PM IST
The natural beauty of the Sujawandev temple's surroundings attracts filmmakers and some scenes of the popular Hindi movie Omkara starring Ajay Devgn and Kareena Kapoor were shot in the area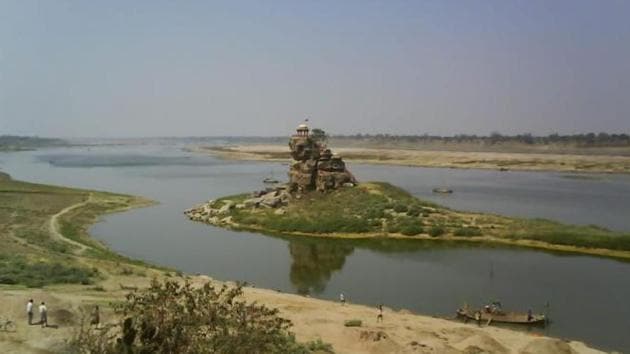 Hindustan Times, Allahabad |
Farhan Ahmed Siddiqui
The historical Sujawandev Temple on a rock island in the middle of the Yamuna in the Ghoorpur area of Allahabad in Uttar Pradesh is facing a threat from illegal sand mining.
Years of sand mining has loosened the rocks under the water and weakened the base, allege some locals on the condition of anonymity.
The natural beauty of the Sujawandev temple's surroundings attracts filmmakers. Several film shoots have been organised at the spot in the last few years. Notably, some scenes of the popular Hindi movie Omkara with Ajay Devgn and Kareena Kapoor in the lead roles were shot at Bhita.
Locals claim the administration is helpless against the sand mafia which calls the shots in the area.
All India Kisan Mazdoor Sabha leader Ashish Mittal alleges the sand mafia has virtually changed the course of the river, using rocks and boulders to make a bandh (embankament) and connect the island to the ghat (riverbank).
"Earlier, sand was transported on boats but now they are using the recently made 'bandh' to take tractors and trucks to the island for loading sand. The mafia has dug out large rocks from the ghats and the archaeological site nearby to make the bandh and change the river's course. I wrote to the Archaeological Survey of India (ASI) and the administration in this connection but no action was taken," Mittal adds.
Denying any laxity by the authorities, Rajkumar Dwivedi, subdivisional magistrate of Bara, says: "All mining activities at Bhita have been stopped by the administration. However, the sand dumped earlier is stored at the ghats. The land connecting the island and the ghat has appeared due to low water level and is not manmade. The land will disappear as soon as water level increases in the coming months."
"I have made a suggestion to the district magistrate for conservation and development of Sujawandev temple and the surrounding archaeological sites at Bhita," he adds.
Legend has it that the temple was once destroyed during a major flood during the reign of Mughal Emperor Aurangzeb. However, Shaista Khan, the Mughal Subedar of Allahabad, repaired the temple and beautified it by constructing a canopy. Khan installed an inscription in Persian at Sujawandev temple, says historian Yogeshwar Tiwari, professor at Allahabad University. A mela (fair) is also organised at the ghat (riverbank) two days after Diwali.