Tunday Kababi of Lucknow to be back with its USP buffalo meat kebabs
Other outlets in the city too are likely to follow suit and restart serving buffalo products that include nihari and pasanda.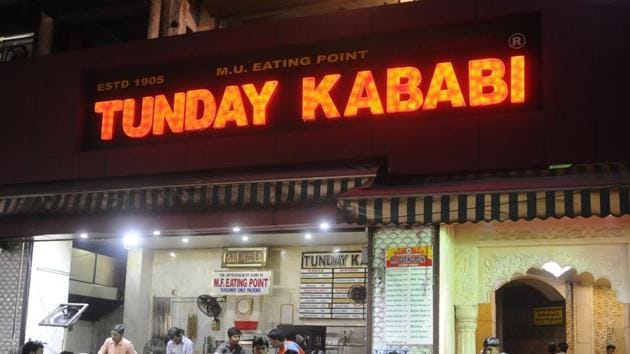 Updated on May 16, 2017 09:16 PM IST
Lucknow's iconic eating joint Tunday Kababi will be back with its signature dish – the buffalo meat galouti kebab – from Wednesday.
Tunday Kababi, a 112-year-old heritage restaurant chain, had discontinued buffalo kebabs on March 23 after a crackdown on illegal slaughterhouses by the Yogi Adityanath government affected meat supply.
Since then, the eating joint – popularly known by the shortened named Tundays – had been serving chicken and mutton kebabs, which food connoisseurs say are not as tasty as the buffalo meat variety.
"Sale of the buffalo meat kebabs would start from Wednesday onwards. I am happy as now we can cater to people belonging to the weaker section of the society, who could not afford chicken or mutton kebabs that are much expensive than buffalo meat kebabs," said owner Mohammed Usman, whose grandfather set up Tunday Kababi in 1905.
Tunday Kababi was even forced to shut shop for a day due to non-availability of meat in Lucknow, once known as the City of Nawabs, the aristrocatic food-loving class of the Mughal period.
Last week, the Allahabad high court directed the Uttar Pradesh government to issue licences and no-objection certificates to meat sellers in a major relief for sellers whose licences weren't renewed after March.
"Gradually, perhaps after the court's order directing the state government to find a way out and issue licenses to the butchers, the supply of the buffalo meat is being restored gradually," Usman said.
"Hence, it is decided to restore the sale of buffalo meat galaouti kebabs that are not only in demand but also much affordable."
He said the sale of buffalo meat kebabs will be restored at both its outlets, in Chowk and in Nazirabad.
The cost of one plate of four buffalo meat kebabs is Rs 40.
"One plate plus four parathas, costing Rs 80, is sufficient to satiate the hunger of two. But, the cost of one plate of mutton kebabs is Rs 80 and chicken kebab is Rs 60," he added.
On regular days, the Old Nazirabad outlet sells around 80 kg of meat products including mutton and buffalo.
Other than Tundays, other outlets in the city too are likely to follow suit and restart serving buffalo products that include 'nihari', a slow-cooked meat stew, and 'pasanda', a Mughal dish prepared with the juiciest meat chunks.
"Beef kebabs and nihari were much in demand. Since the outlets were not preparing it, we were unable to deliver it to the people across the city. I am hopeful that now we can restore the supply and add to the smiles of the people," said Bilal Arshad of Online Kaka, an online delivery platform.
Close Story