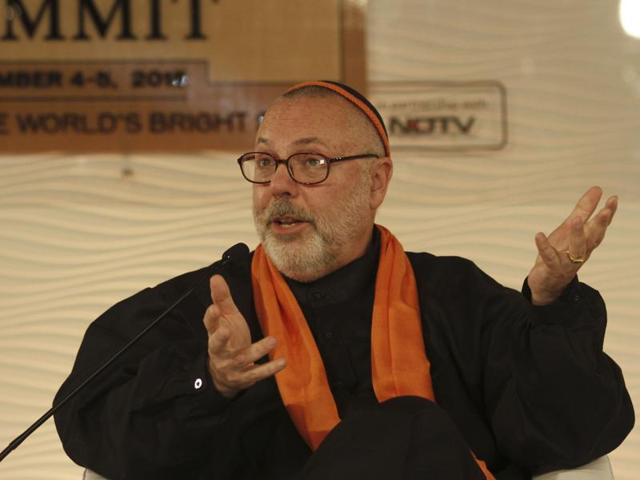 Every religion has its shadow side: Rabbi Rami Shapiro
Rabbi rami Shapiro's deep and varied interest in theology and spirituality can be gauged from the fact that he has also been initiated in the Ramakrishna Order of Vedanta Hinduism.
PUBLISHED ON DEC 06, 2015 02:41 PM IST
Born on April 26, 1951, Rabbi Rami Shapiro earned his rabbinic ordination from the Hebrew Union College and has a PhD from the Union Graduate School. The author of over 30 books on religion and spirituality, Rabbi Rami is based in the United States and presently works as a freelance theologian. His deep and varied interest in theology and spirituality can be gauged from the fact that the Rabbi has also been initiated in the Ramakrishna Order of Vedanta Hinduism. Excerpts from a conversation:
Globally today we see a growing discourse on religion, spirituality and religious violence. But Judaism seems not to be a part of that discourse. Why is that and where would you place Judaism in this discourse today.
Because there are so few Jews in the world, Judaism may perhaps be left out of the conversation. It is a very small religion. But every religion has its shadow side. Every religion has its violent texts and its violent individuals and each religion has to wrestle with that shadow. So Judaism too has its extremists, who have a very narrow view and equate spirituality with nationalism and can do some damage to other people. And Judaism has to wrestle with that, Christianity has to wrestle with its shadow, Hinduism with its, Buddhism with its shadow etc. Islam definitely has to wrestle with its shadow. That's the work of a religion. Religions have to look at those texts that they claim are divine, that really speak horrible, horrible things about other people and the gods in those texts often condone terrible acts of violence against other people. We have to own those texts and then either reinterpret them or disavow them or understand them to represent the shadow side of the human being and we have to look at ourselves and say okay my God can sometimes command me to do terrible things. Since I created that God, I invented that theology, what I am really seeing is my own dark side, can I control that urge to do terrible things and not do them? Our religions mirror back the best and the worst of us as people. The work of those who are involved with religion is to help them do their best and not fall into the trap of the worst.
You are a part of the order of Ramakrishna Mission. How would you define Hinduism, since it is very much under debate in India at present?
I can't define Hinduism for you. That's not my place. But what draws me to the Vedanta approach is the notion of non-dual understanding… that everything is a manifestation of God. Or if you don't like the word God, find another word… That everything is one reality. Then it gives you meditation practices, mantras, where you can experience that it's not just a philosophy, an idea in my head, but it's something that is transforming my very consciousness, my existence. There are other schools of Hinduism, but this is what attracted me to it. If you talk to the mystics of every religion, you would come to the same awareness, but the Vedanta just puts that out there.
So would you say that insisting to one view of Hinduism and being intolerant of others shows a non-understanding of Hinduism?
My experience of Hinduism is that it is radically tolerant. The Hinduism that attracts me is very sophisticated, philosophical, Vedanta kind of Hinduism that really tries to lift you out of the parochial into the universal and to me that's the best of Hinduism… Hinduism is not just devotion to Rama or Krishna. Hinduism is the realisation that you are the divine as is everything else and with that comes an ethical system of ahimsa because everything is part of the same thing. Hinduism is so broad and so rich, there are all kinds of ways to go to that experience. Its essence says know who you are and here's the path that will take you to the universal. That is brilliant.
But given recent incidences, would you say there is also growing intolerance among Hindus?
Sure. It's part of that notion of a spectrum. There is an extreme narrow, fundamentalist expression of Hinduism, Hindu nationalism. You find the same thing in every religion. But those are the extreme, frightened fundamentalists. And they don't get it. But they are part of the spectrum. I will not deny that they are part of the Hindu spectrum too, but I would say they are the wrong part. And they are the least informed, least awakened, least enlightened part.
Close