Happy Ending review: This Saif flick is a mixture of films it criticises
Nov 23, 2014 04:01 PM IST
Happy Ending can hold your attention throughout its length except some not-so-necessary intimate scenes. There is enough in the story to provide you a good dose of entertainment, you just don't need to expect too much.
Film: Happy Ending
Cast: Saif Ali Khan, Ileana D'Cruz, Govinda, Kalki Koechlin, Ranvir Shorey, Preity Zinta
Directors: Raj Nidimoru, Krishna DK
Rating: 2.5/5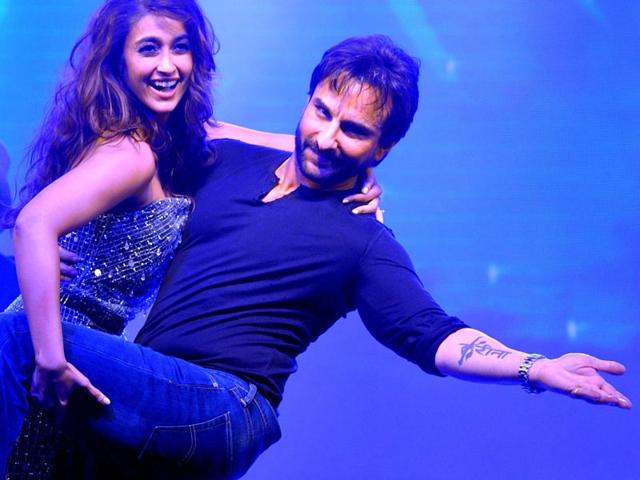 "Aane wala hai gaane ka hook… Nacho saare G faad ke." This is how the most popular song of the film begins and its placement in the film is just before the first twist of the story. It's bold in lyrics and carries a sentiment that Happy Ending could be a different film than usual 'masala' Bollywood potboilers, but does Happy Ending really turn out to be a 'hatke' film? Let's probe.
Yudi (Saif Ali Khan) is a successful, commitment phobic writer whose book was published five and a half year ago. He is still trying his best to bask in the reflected glory of the past without realising that he is no more in demand.
The stud, as he likes to call himself, goes broke and decides to make a comeback in the market which is now tilted in favour of a new author Aanchal Reddy (Ileana D'Cruz). After a series of coincidences, the novelists start liking each other but then Aanchal is also another version of Yudi and thus the two part their ways after spending some quality-crazy-passionate time together. Will this be the end of their story or it's just the beginning of a new chronicle?
Watch: Happy Ending trailer


Krishna and Raj are witty filmmakers who blend their urbane humour with a well paced narrative. This is what they have been doing so far in 99, Shor In The City and Go Goa Gone, but this time they look desperate to up the ante and thus start experimenting with characterisation.
This proves to be a good idea as they create a character called Yogi (Saif Ali Khan), apparently Yudi's alter ego, who makes some scenes look dramatic and easily drives home some basic philosophies behind the film. It's a different thing that those philosophies seem repetitive and redundant in the wake of the changing face of Indian cinema. Anyway, we will talk about it in detail in the later part of the review.
The second best things is: Bollywood superstar Armaan () and Vishakha (Kalki Koechlin), Yogi's possessive girlfriend. Govinda represents what we call the star power of the Hindi film industry. He is a self obsessed actor who thinks that the audience will consume whatever he offers them. After winning the single screen, Armaan is out there to conquer the class which he defines as the multiplex audience. The directors take jibes on the film industry through Armaan as they make fun of six-pack abs, Bollywoodised versions of Hollywood films and the whole idea behind happy endings.
At one point of conversation between Armaan and Yogi, the former says, "300 rupaye mein audience ko zindagi mat sikhao." The real audience of the film laughs but realises long before the film ends that the joke was on them. This was the first point which made me skeptical about the film's outcome. Were Krishna-Raj sarcastic or they simply made fun of our sensibilities?
Kalki is charming as a 'chewing gum' girlfriend but she tries too hard in some scenes and that makes her character a bit forced. Also, because we have already seen her doing similar things in the past, we expect her to move on to a new tangent. Do you think it's our fault that we expect actors to do new things all the time?
Now, to the real deal of Happy Ending. What the film is about? Well, it's about the feeling called 'love' and how it pushes a person to take important decisions in life. Here, the promise of delivering a 'hatke' film starts losing its ground as the story changes into Love Aaj Kal Part 2. The premises become so similar that nothing looks different than the heroine.
The stretched second half still keeps pretending the 'hatke' mood before finding its resolution in a typical climax. May be the life moves on in such fashion but then there was no need of so much pretention. Or, probably I read too much between the lines, things that were not even said. After all, Govinda's character said somewhere in the middle, "Hatke kya hota hai. Audience ko khush hone de yaar."
You see the point? Happy Ending is actually a mixture of those films which it criticises.
Yes, Saif did Omkara, but he is still widely perceived as a suave urban protagonist. His tone, diction and polished manners create an intelligent image for him. His physical transformation from a lean lover to a middle aged matured man has also helped him in generating a new image but this image can sustain only with the help of new age cinema.
Happy Ending is two step forward-one step backward towards that mission. He seems hesitant in going full throttle for a really different film. The film begins with, "Pyaar filmon me hi achcha lagta hai, faltoo baatein edit kar dete hain," and concludes with, "Aisa na karne se effect kam ho jayega." You may call it the development of the conflict line; I would like to call it the pressure of commercial cinema. Of course, it is about different perspectives.
As an actor, he is in his elements and carries the film on his shoulder, he gives everybody a chance to shine without being overshadowed by them and that represents his own evolution as a lead actor. His scenes with Ranvir Shorey are hilarious and full of spontaneous acting. He is funny, easygoing and convicning.
Happy Ending can hold your attention throughout its length except some not-so-necessary intimate scenes. There is enough in the story to provide you a good dose of entertainment, you just don't need to expect too much.
The film does exceedingly well on the craft front as it moves away from conventional techniques but fails to add a new dimension on the content front. But, you can always watch it for clever one liners and sharp jokes. It's positively, certainly and definitely a fun film. (Interact with Rohit Vats at Twitter/@nawabjha)
ott:10:ht-entertainment_listing-desktop