Movie review: Saif Ali Khan is the worst thing about Humshakals
Updated on Jun 21, 2014 02:05 PM IST
Sajid Khan's Humshakals hit theatres on Friday. The film begins with credits paying tributes to Kishore Kumar, Jim Carrey and Peter Sellers. Audacity, we say. And the torture begins. Read the review.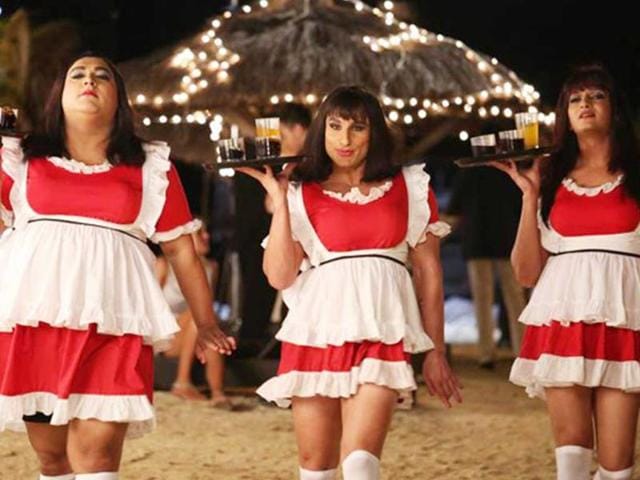 Hindustan Times |
, New Delhi
Sweta Kaushal
Director:
Sajid Khan
Genre:
Comedy
Cast:
Saif Ali Khan, Riteish Deshmukh, Ram Kapoor, Esha Gupta, Tamannah and Bipasha Basu
Plot synopsis:
Based in London, the film is about the confusion caused due to three identical people Ashok (Saif Ali), Kumar (Riteish Deshmukh) and Mamaji (Ram Kapoor).
Rating:
1/2*
Humshakals has received flak ever since its first trailer was released. The Sajid Khan film hits theatres on Friday. Has it proved to be a disappointment or is it any better?

Well, it is completely worth all the criticism. Saif Ali Khan recently said he wouldn't have done the film ten years ago. Actually, he should have never done it.

The film begins with credits paying tributes to Kishore Kumar, Jim Carrey and Peter Sellers. Audacity, we say. And the torture begins.

The story has little to offer. Other than stupid slapstick and illogical situations put forward as jokes, there is little that you can look forward to.
Watch Movie Review: Humshakals is utterly torturous!
Humshakals looks exactly similar to Sajid's earlier films like Housefull 2 — with a farcical plot based in foreign locations and amazingly dim-witted comedy.
There are three stupid main characters who crack the worst of jokes until they land into some trouble. And even as they try solving problems, they land into all sorts of illogical song-sequences with both the girls and guys in their night-suits.

As far as performances are concerned, Riteish is the one who might be of some interest in the film, followed by Ram Kapoor. The duo must seriously choose their films wisely and stop signing up for things like Humshakals.
Despite all odds, Riteish seems to pull off the gag-act perfectly. Ram does a decent job of playing the mean mama - KANS, and he has his moments.
There is one scene where his evil side is revealed to Saif and Riteish and he does the bad guy act with finesse. And he does look kind of cute in the little 'red frock' he wears.
Saif is the worst of all — he is unconvincing as the man behaving as a dog, as the waitress. Just about everything he does in the movie is like he's just sleep-walking.

Esha Gupta, Bipasha Basu and Tamannah Bhatia have little to do in the film except appear in mini-dresses so their acting should not really be commented upon.

Sajid, nonetheless needs to be lauded for one thing - honesty. Through the lame jokes that Saif cracks in the starting, you seem to be warned for what lies ahead. Riteish says Saif's joke will send you to coma. In fact, at one point, Saif and Riteish are warned that they will be tortured in ways that will make Hitler and Saddam proud - strapped to their chairs, they will be shown Sajid Khan's Himmatwala. He really knows what he is making. Only problem is - why does he have to?

With no story or comedy on offer, even Riteish and Ram are unable to save the day for Sajid Khan. Skip this movie if you do not want a bad headache and other after-effects of being tortured.

Half a star is all we can afford — may be for Sajid Khan's confidence to call it a film.
ott:10:ht-entertainment_listing-desktop
Personalise your news feed. Follow trending topics