100 years of togetherness: Residents of 2 Mumbai societies reminisce of days gone by
A play on the history of formation of the two Bandra societies will be enacted in July, said members, who have released books and souvenirs to commemorate the event.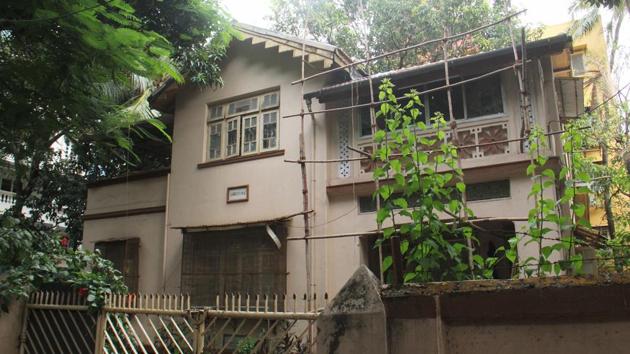 Updated on Jun 18, 2018 01:14 PM IST
Hindustan Times | By Yesha Kotak
, Mumbai
Reminiscing the days during colonial rule, where they grew up in bungalows in a quiet locality that was just a bicycle ride away from fields, the oldest residents of families staying at Salsette Catholic Co-operative Housing Society (SCCHS) and St Sebastian Homes Co-Operative Housing Society Ltd at Bandra believe that even though 100 years have passed since their homes were built, little seems to have changed for them.
"It was just a nice and beautiful living and way ahead of its time, where we would see British officers, Muslims, Parsis and Hindus using the premises of our society. It was a safe community space where everyone knew everyone, and we as kids didn't understand what actually Salsette was. It is only today that we know about it," said Ajit Rodrigues, 73, whose father built a family bungalow at Perry Road in the 1950s. Salsette was the old name for the island that now comprises suburban Mumbai, Mira-Bhayandar and parts of Thane city. SCCHS was formed in 1918.
"It was 1918 when World War I ended and that was the birth of peace in the world. The year 1918 saw another birth - that of St Sebastian Co-operative Housing Society, which at that time was to be earmarked for middle-class, Roman Catholics, who wanted to live amidst the verdant greenery and lush fields as Bandra then was," said Brenden D'Silva, chairman of managing committee, St Sebastian Homes Co-Operative Housing Society.
Built to provide affordable housing, these societies, which currently have 200 and 119 plots respectively, occupy the area from St Paul's Road near St Andrews Church to D'Monte Park Road and Rebello Road.
"As per the by-laws approved by the government, only people of Roman Catholic faith are provided accommodation in our society. This has been done because our founder, FAC Rebello, with the help of other like-minded people bought the parcels of land - earlier leased to them – together, and disliked the possibility of local Catholics selling their land to rich outsiders," said Cornel Gonsalves, secretary, SCCHS.
Gonsalves added that the founding members of both the societies were 'visionaries' of those days, who had ensured that while the society was being formed, all the basic facilities would be provided to them in the vicinity. He said this is the reason why the planning made sure there was allocation for schools, gymnasium, garden, hospitals and even markets.
The formation of these societies can be traced back to the co-operative movement of the late 19th century, leading to the enactment of Co-operative Credit Societies Act, 1904. SCCHS, which was registered in the year 1918, was done at a capital amount of 2,500 pice (about ₹39.06, as ₹1=64 pice), Members who were owners of the property pooled in to contribute to the capital amount.
"It was in those days that when our society provided infrastructure to the suburbs. Instead of municipality providing us with capitals, and funds, some of the members of our society, who were a part of municipality took up the initiative of laying roads and providing electricity to the area, which is why many of the streets in Bandra were named after surnames of these residents," said Ivan Mendonca, president, SCCHS.
To commemorate a century of existence, both the housing societies held a celebration on May 29, where the members of the community came together and a coffee table book and a souvenir with the history of these societies was gifted to the members. A play on the history of the formation of the societies will be enacted in July.
City historians, however, trace the history of co-operative housing societies to mid-1860 when Catholic missionaries made Bandra their home. In those days, Bandra was still not a part of Bombay, but a distant suburb where people would 'migrate' to find affordable housing.
"To help in the affairs of church, there were people brought in from Goa, who eventually made their bungalows and stayed around these churches. The concept of having societies was not really common in those days, it was only in 1940s where one sees traces of societies in Bombay. The main purpose why these colonies were formed was to act as custodian of properties for close-knit communities," said Arvind Ganhachari, former professor of history at Mumbai university.
Close Story