23 Maharashtra farmers get 'no dues' certificates, but are not eligible for loan waiver
Oct 22, 2017 10:57 PM IST
The farmers have now been told to wait till they are part of the list of beneficiaries
Delay in getting the first list of farmers eligible for the loan waiver resulted in Osmanabad district authorities making a major mistake on October 18. They randomly felicitated 23 farmers by giving them 'no loan pending' certificates, but the list, which they got a day or two later, didn't have even one of these farmers' names.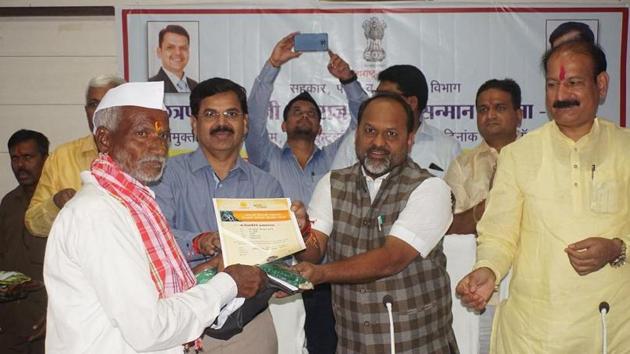 The farmers have now been told to wait till they are part of the list of beneficiaries.
The state government is boasting of giving banks the money they had loaned to 8.4 lakh farmers. After chief minister Devendra Fadnavis felicitated few farmers on October 18, guardian ministers of many districts imitated the CM by felicitating beneficiaries. Dairy development and fisheries minister Mahadev Jankar, who is co-guardian minister of Osmanabad district, handed over such certificates to 23 farmers with the assurance that their loan amounts would be immediately transferred to the banks.
"It is true that the 23 farmers who were given certificates are not on the first list of eligible farmers. Until the verification of their applications against the bank records is not done by the authorities, we will not be able to credit the loan amounts. Since we got the list of eligible farmers in our district a little late and we were asked to hand over certificates to farmers on the given day, we shortlisted the probable farmers. Unfortunately they are not on the list released by the authorities," Vikas Jagdale, district deputy registrar, Osmanabad, told Hindustan Times.
The state government has prepared a green list of 8.4 lakh farmers who had unambiguous records and were fit cases for the benefits in the first phase. They were part of the 'green list' prepared by the government for immediate disbursement. The beneficiaries with the ambiguous records have been placed in yellow and red list. Though the district administration had to choose the farmer from the green list, owing to the delay they chose them randomly. "My outstanding loan with the State Bank of India is Rs1.3 lakh and Rs 10,400 with district central bank. I was given the certificate signed by the chief minister in a programme held on October 18 for the waiver. I will now visit the bank on Monday to check the status of the waiver amount," said Bharat Tambe, one of the 23 farmers who were felicitated.
Former minister and Congress legislator Madhukar Chavan said, "The government promised to disburse the amount before Diwali, but they have got nothing except the certificates."