Adman plants 400 saplings of 60 types in a decade, nurtures them into trees in Navi Mumbai
Sep 25, 2017 12:43 AM IST
Navi Mumbai resident Vikas Shivaji Chavan, 39, not only plants saplings but nurtures them
At a time when urban planning has pushed environmental concerns to the margins, an advertising professional is showing how to increase the green cover in Navi Mumbai.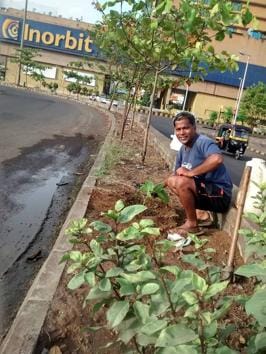 Navi Mumbai resident Vikas Shivaji Chavan, 39, not only plants saplings but nurtures them.
He has planted more than 400 saplings in various parts of Navi Mumbai and nurtured them into trees over the past 10 years. What is surprising is that he has planted 60 types of saplings of only indigenous variety and now intends to plant another 60 in coming years.
Chavan began his efforts in 2007 when he decided to increase the green cover of a two-wheeler parking lot at Central Plaza in Navi Mumbai. He planted and watered more than 60 saplings at intersections and medians where bikes would be parked.
"The area now has 45 to 50 trees which have not only enhanced the green cover but helped develop the aesthetic beauty of the lot," said RN Joshi, Vashi resident who works as a security guard at the plaza.
Witnessing his success, he planted saplings along traffic medians, dividers, parks and open spaces at Cycle Pay and Park, Vashi, Inorbit Mall, Bonkode, Bhumiputra Maidan, Akashganga Society, Nisarg Udayan, Koparkhairane, Navi Mumbai and various areas along the Eastern Expressway from Nahur all the way up to Ghatkopar and Vikhroli.
According to the Navi Mumbai Municipal Corporation (NMMC), there are nine lakh trees across under its jurisdiction apart from the forest cover. It planted 30,000 saplings this year before the monsoon and another 50,000 in the next year. There are 199 gardens covering an area of 7.62 lakh sq m area in Navi Mumbai.
"The slow growth of a sapling into plant and then a tree is the way of life. This gave me the inspiration and the passion to go ahead with at least one plantation weekly for the past 10 years," said Chavan. "With growing urbanisation and development, the idea was to protect the environment, possibly in the most basic manner, by planting trees."
He said that the survival rate of his plantations has been between 70% and 80%.
Laxman Kadam, 60, a retired banker from Navi Mumbai, noticed Chavan's intentions and joined him whenever he got the time to plant a sapling. "For me, planting these saplings is equivalent to our prayers to the Almighty. Chavan helped me do that," he said.
Not only Kadam but even random people that noticed his efforts tried to help him. "On two different Sundays, I saw Ajay Ranade, banker from Navi Mumbai watering my plantations at Central Plaza. On asking him why he was doing it. He responded asking me, 'isn't it our responsibility?'" said Chavan.
Chavan said that he spent a total of Rs 5,000 for buying equipment. "When I began I was supported by Vayjanti Joshi from Nerul who gave me saplings for free. Later, I began buying them from a nursery in Kalyan," he said. His three-year-old daughter Palvi at times helps him during plantation.