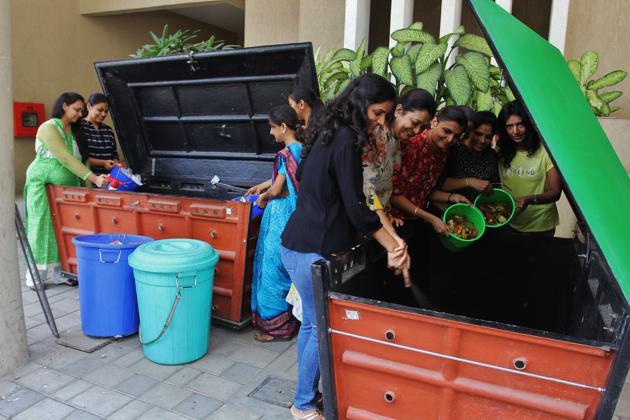 Mumbai society recycles 5,550 kg of biodegradable waste over the past year
Solar panels - that's the next eco-friendly step for residents of Marathon Onynx, Mulund
Hindustan Times | By Akash Sakaria
UPDATED ON MAY 01, 2017 11:10 AM IST
In a city where multi-tasking is an essential skill, residents of a Mulund housing society have incorporated the skill to save the environment. Over the past one year, residents of Marathon Onyx have composted organic garbage, recycled other waste and harvested rainwater.
Since March 2016, residents of the 13-storeyed hig-rise have treated more than 5,550 kilograms of biodegradable waste and more than 1,200 kilograms of recyclable waste. "We have kept records for each day as to how much waste was generated and treated. On average, 25-30 kilogram of waste is being fed into compost bins," said Rakhee Mehta, a resident, who looks after composting.
Sonal Shah, director, Marathon Realty, suggested the initiative is part of all their projects. Shah, who resides in the society, urged the residents to go green. "We decided to do something for the environment and what better than making our city green? We needed co-operation from the residents and fortunately we got it. You can't do such a thing alone," said Shah. "Landfills are affecting people's health. Composting, rainwater harvesting and other such projects are not complex to adopt and doesn't require massive investment," Shah said.
The composting process is done in a rather large bin, which can produce more then 400 kilograms of compost at one go. The society has installed two such bins and the compost produced is used as fertiliser for the lawn every 25 days.
"The bins are called bio-bins or bio-digester bins and were imported from Kochi. They are made from fibre reinforced plastic (FRP), which is helpful for a better yield," Mehta said, adding that initially, composting didn't give the expected results. "So I decided to go to Kochi personally to understand the entire process," she said.
Apart from composting, the residents harvest rainwater, thus reducing wastage and dependence on municipal supply. The rainwater is stored in a chamber and transferred to the borewell, which is eventually used for cleaning purposes.
The society also manages recyclable wastes by sending other wastes for reuse. "Items such as cardboard, wrappers, styrofoam, glass, metal, among others, are deposited at recycling collection centres every fortnight. We deposit more than 100 kilograms of recyclable waste every month. There is hardly any waste left for the municipality now," said Shrishti Buch, another resident, who is an active member of the green brigade.
Buch added that initially it was a challenge to convince and seek participation from all the occupants of 35 flats in the society. "We provided three dustbins for segregation of waste. In the beginning, there was confusion among residents over management of waste and we received complaints about stench emanated from the bio-bins. But we achieved the end result by overcoming the initial hiccups," said Buch.
Take another step towards a green living, the society now plans to install solar panels. "We are doing research on installation, pricing and other process. Once through, we'll have solar panels as well," Shah said.
Kishore Gandhi, T ward Officer, said examples set by the Onyx residents must be replicated by other societies. "Every society should handle waste at its levels. Such multi-tasking helps the municipal corporation and eventually helps the environment," he said.
Close