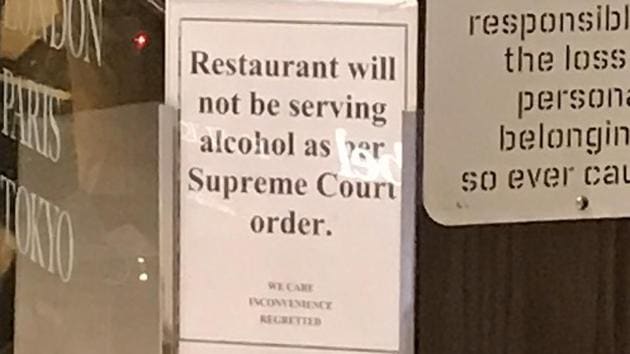 After Supreme Court liquor ban, 500 restaurants in Mumbai stay shut for second day in a row
A hotel owner said it was not viable to operate without serving liquor
UPDATED ON APR 03, 2017 10:27 AM IST
Approximately 500 restaurants and bars serving liquor within 500m of the city's highways remained shut for the second consecutive day on Sunday, following the Supreme Court order banning such places from plying.
Many regular visitors to the wine shops, bars and restaurants along the western express, eastern express and national highways passing through suburbs and Thane said they were shocked to learn that the joints refused to serve liquor.
Following the Supreme Court's clarification that its order applied to all establishments including bars — thus nullifying the state government's attempt to exempt these bars from the directive — the state excise department ensured that the order was fully enforced. The department swung into action on Saturday and sealed godowns in which liquor was stored. Hotels were given the option to serve only food and not liquor if they wished to operate.
However, few hoteliers opted to do this, with many preferring to shut shop. A hotel owner said it was not viable to operate without serving liquor. "People patronise this restaurant for its drinks and not its food. We cannot refuse to serve them alcohol and hence it is better to stay closed," said the owner, who did not wish to be identified.
According to Adarsh Shetty, president, Indian Hotels and Restaurant Association (AHAR), these hotels were shut following the Apex Court's order. "Around 500 hotels in the suburbs fall within this restricted zone. They have all shut.The hoteliers have invested a lot into their business and are facing hard times," said Shetty.
Sourabh Kulkarni, 33, went to Goregaon Social at Oberoi Mall on Sunday. He was shocked to see a notice at the entrance stating that liquor would not being served. "No other restaurant nearby was willing to serve alcohol," said Kulkarni.
Vilas Rao, an executive with a multinational company, was taken by surprise after he saw that all liquor joints near the Eastern Express Highway in Chembur were closed.
In December last year, taking note of the high rate of highway accidents caused by drunk drivers, the Supreme Court had ordered a ban on all establishments serving alcohol within 500m of highways. On Friday, the court said the order also applied to restaurants, hotels and bars.
The order will hit 15,699 establishments, which will be forced to shut. It will cost the government Rs7,000 crore every year.
The state may now come up with the option of de-notifying the highways to get rid of order. Excise minister Chandrashekhar Bawankule announced on Saturday that the state would help liquor shops to move out of the restricted areas by waiving taxes and charges.
Read
SC's highway liquor ban: Maha govt says it won't apply to highways under local bodies
SC orders ban on sale of liquor at shops within 500 metres of highways
15,000 shops, hotels along city's highways to lose liquor licences
Close