Another fight to save Mumbai's green lung, Aarey Milk Colony
Updated on Jun 26, 2017 09:24 AM IST
Mumbai city news: In the last seven decades, a police training area, film production and teaching centres, cemeteries and a public housing complex have been built in Aarey Milk Colony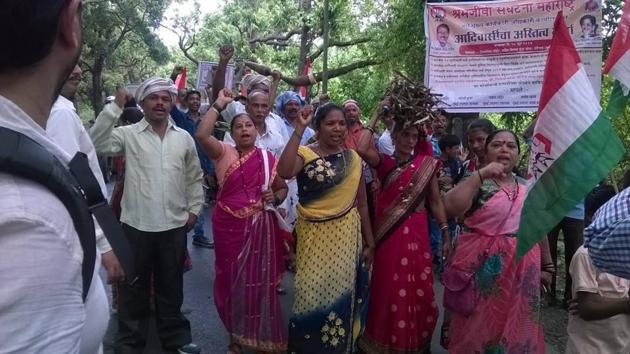 Hindustan Times |
, Mumbai
Manoj R Nair
Last week, residents of tribal villages inside Mumbai's Aarey Milk Colony protested against a government survey of the area. It is not clear why the study is being done. Aarey Milk Colony officials have said that they want to find out the number of people – living in tribal villages and slum settlements — in the area. But members of the tribal communities are convinced that the study is being done to create Slum Rehabilitation Authority (SRA) schemes in the area.
In SRA schemes, slum dwellers surrender their homes to builders who provide free flats in housing complexes built on land cleared of slums. The builders make their profit by selling larger flats at market rates.
Mumbai's beleaguered green lung, Aarey Milk Colony, is a 3,160-acre estate with grasslands, cattle sheds, tribal villages (which predate the milk production centre) and slums. There are also tree-covered hills, lakes, gardens and species of birds, animals and insects - reasons why the area needs to be protected.
The milk production centre was created out of forest land in 1949 but is under threat from construction. The Aarey Conservation Group, which is campaigning to preserve the area's natural landscape, reports that large slices of the estate have been carved out and handed over to government and private agencies.
Over the last seven decades, a police training area, film production and teaching centres, cemeteries and a public housing complex have been built inside the boundaries of the colony. It is estimated that a third of the estate is now under other government agencies other than the dairy department. One plot in the southern end has been pared off to build a car depot for the Colaba-SEEPZ underground Metro line. A large private housing and recreation complex has come up in the northern end. There are plans for more such projects, including a zoo. The draft development plan 2034 for Mumbai has more ambitious ideas for the area, including a business centre.
The expanding slums are another threat. When the Aarey Milk Colony was created, the government dairy department did not build housing for thousands of labourers who were brought in to cultivate cattle fodder and maintain the dairies. "Existing tabelas (cattle sheds) were converted into officers' quarters and the labourers were allowed to set up homes wherever they wanted," said Biju Augustine of the Aarey Conservation Group.
The informal housing built by the dairy workers has now grown into large slums. Aarey Milk Colony's chief executive officer, Nathu Rathod, said that there are no exact figures on the number of slums. Non-government agencies estimate there are 30,000 slum homes that cover around a tenth of Aarey's area. "The slums have grown rapidly after 1985, especially after government made rules about the protecting the housing rights of those who lived in slums before a particular cut-off date," said Augustine.
The 27 adivasi padas, or tribal villages, have between 50 and 350 families each. The residents, mostly Warlis, are the indigenous people of the area and they do not want to live in SRA flats. They said they are protected by the Scheduled Tribes and Other Traditional Forest Dwellers (Recognition of Forest Rights) Act, 2006. "It should be taken into account that adivasis stay in hamlets and cultivate land," said Amrita Bhattacharjee, a member of the Aarey Conservation Group.
Rathod said that the survey was being done after orders from Maharashtra's chief minister. "There was a baithak (meeting) with the chief minister and he said that people living inside Aarey should be given civic amenities. Aarey Milk Colony is an Eco-Sensitive Zone and has to be protected," said Rathod. "A survey has to be conducted to identify tribal and non-tribal residents, but the tribals want the tribal development department to do the survey."
Environment groups said that there are court orders that prohibit SRA projects in Aarey. So, what is the survey for? "It cannot be said that the survey is for SRA. It is not clear," said Rathod.
Close Story
Personalise your news feed. Follow trending topics