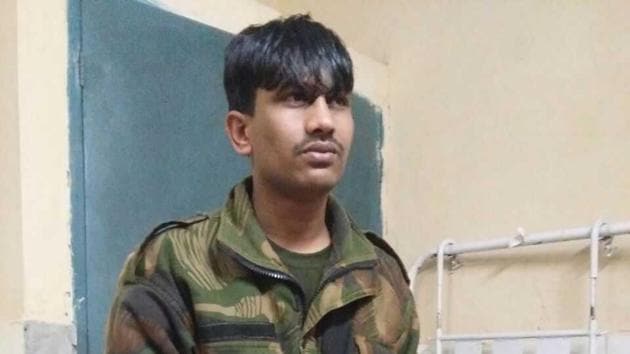 Chandu Chavan: The jawan from Maharashtra who spent 4 months in captivity in Pakistan
The a 23-year-old Indian army jawan from Bohrivir village in Dhule talks about his fear and trauma after being captured by the Pakistan army
Hindustan Times | By Aritra Hazra
, Mumbai
UPDATED ON APR 03, 2018 12:24 PM IST
It is rare in India's military history that an Indian solider has walked into Pakistan Occupied Kashmir (PoK), and has survived. It is also rare that Pakistan has returned a captured Indian solider.
But unlike many of his colleagues, Chandu Chavan – a 23-year-old Indian army jawan from, Bohrivir village of Dhule district (about 330 km from Mumbai) – returned home, four months after being captured by the Pakistan army.
The story dates back to September 30, 2016, when the landline at Chavan's house kept ringing incessantly. The caller identified himself as an Indian Army personnel and questioned Chavan's 72-year-old grandfather CD Patil about his whereabouts. Soon Patil found out that Chavan had crossed over to PoK. This call came a day after the Indian special forces started conducting surgical strikes to eliminate terrorists. News of Chavan crossing over to PoK, and the possibility of him being captured by Pakistan's army eventually led to his grandmother's death.
Meanwhile, nobody knew what happened to Chavan. Recollecting how every second of his captivity in Pakistan felt like a year, Chavan said, "It was still dark when I crossed the border, and walked into a village in PoK." Civilians in the village who spotted him shut their doors. "The fear in those villagers was palpable. I was in my army fatigues and was carrying a gun," said Chavan. It did not take long for him to realise that he was being watched. "It is not possible to explain the fear one feels when your capture by a hostile army is inevitable," he said. His fear became real when he received a smack on his ears, fell down and his vision started blurring. Ears still ringing, all he could initially spot were tall men in dark Pathani suits with AK-47s.
Chavan then heard a man tell his senior counterpart – "Janab, Hindustani sipahi hai. Isko yahin maar do" (Sir, he is an Indian solider. Let us kill him here only). "I felt that those were the last moments of my life," recalls Chavan. But the senior army personnel intervened and warned the soldiers of civilian presence in the vicinity. "A personnel asked everyone to communicate in sign languages as I was a solider," said Chavan. Chavan believes they did not kill him as there were civilians around. Handcuffed and tied up, he was taken to a post. "They did not have any fence like the ones we have to mark the LoC. I saw graves around that post and Pakistan's flag. I could also hear sounds of firing from both sides of the border," Chavan added.
A few minutes later, some army officers walked into the post in civil dress to check on him and thus began his four-month ordeal of tackling interrogations, severe physical pain caused by numerous injections, nails being pulled out and cigarette butts being put into his back, to the point that h nearly lost his mind.
A few hours into his capture, Chavan was asked to wear a Pathani suit, his head was covered with a black cloth, and was asked to get inside a vehicle. "While we were travelling, I told my captors that I wanted to urinate. They stopped the vehicle, and one of them pulled down my pants, and asked me to urinate," he said. But before he could do so, one of the personnel hit him hard asking him to finish fast. The blow was so painful that he could not urinate. Chavan sensed that escape was almost impossible. Soon they reached what looked like another army post. It was time for him to be interrogated. "I lied to them, but they did not believe me," said Chavan who was then subjected to utmost brutality. "They used to keep hitting me till I'd lose consciousness. And then they would administer me medicines," he said.
He was constantly questioned by the Pakistan army about the surgical strikes. "They were clearly baffled by the surgical strikes," he said. The pain from the incessant torture was such that Chavan had almost decided to give up his life. "I told them that I entered PoK because I wanted to avenge the attack in Uri in 2016 on my own. I said this because I thought they would kill me," said Chavan. However, his answers only fetched him more blows and in one instance they even tried to pull his nails out. "They would hit me on my heels, and tell me that I would be put in a cell full of bugs."
Chavan was chained, and the cell he was put in did not have lights. "I could not even get a piece of glass to commit suicide, and escape the agonising physical and mental torture." The Pakistani armed forces tried to mentally wear him down. "They told me that when there is a war, India always fielded Muslims on the front and that Indian soldiers were not treated well. They would talk with hatred about Raj Thackeray and about our Prime Minister to try and break me down," said Chavan. He added that the Pakistani nationals were weary of Modi.
Since he did not break down that easily, a team of Pakistani soldiers would walk into his cell every day carrying a rubber belt which was attached to a wooden handle, and hit him incessantly.
"I told them to kill me. But they kept asking how many commandos came for the surgical attacks." When they did not get conclusive answers, they showed him pictures of torture, where people's ears and tongues were chopped off.
Unable to take the beating, Chavan started replying in Marathi, and he believes that they thought he went mad. "I was starting to lose my mind, and so I asked them to give me the Bhagwad Gita to read. But they denied me even that. I was scared and I had lost all hopes," said Chavan.
He would scratch on the walls, and visualise his family. "With nothing left to call upon, I started performing Namaz. I just wanted God in some form or another," he said.
"Every time they wanted to move me to another post, they would give me injections which made me feel drowsy. This was also the point when they would make my videos by asking me to speak against India. I think they did this with everyone. Even Kulbhushan would have gone through the same," said Chavan.
Meanwhile diplomatic channels on both sides of the border opened up with Subhash Bhamre, the minister of state (MoS) for Defence and the guardian minister of Dhule assuring Chavan's family of his return. Both the armies negotiated with each other for months in the midst of the raging discontentment between the two nations.
On his last day in Pakistan, Chavan was given a shave and a haircut. One of the Pakistan army personnel told him, "Tujhe halal karne leke ja rahe hai" (You are being taken to be killed), and a black cloth was put on his face. It took him quite a while to understand what was happening when he was handed over to the Indian Army at Wagah border. "It was the worst time to be in that situation. The Pakistani army thought I was part of the team that conducted surgical strikes, and had strayed away," said Chavan.
Close