Death by noise: Sound of ships kills marine mammals in Mumbai
Sep 03, 2017 03:50 PM IST
Over the past two years, carcasses of 80 marine mammals, including dolphins, porpoises and whales, have been washed ashore in Mumbai and surrounding areas.
Noise from ships, cargo vessels and trawlers is likely to be one of the main reasons behind the increasing casualties of marine mammals, a study has revealed. Over the past two years, carcasses of 80 marine mammals, including dolphins, porpoises and whales, have been washed ashore in Mumbai and surrounding areas. Authorities, however, have been puzzled as they have failed to find the cause of the deaths.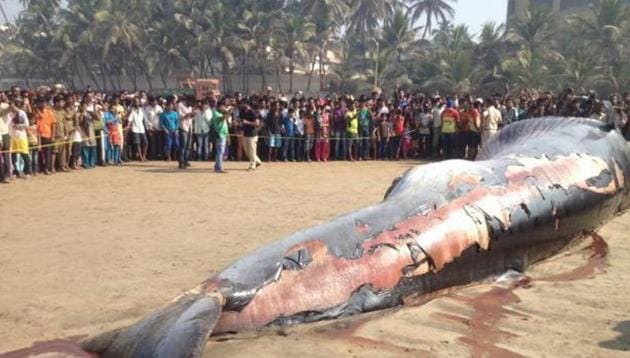 A study by the Maritime Research Centre at the Indian Maritime Foundation, Pune, has found that shipping activity is the single ubiquitous noise source in the ocean and it is doubling every decade.
The report, titled Impact of Maritime Security Policies on Marine Ecosystem, took into account a few Mumbai cases where dolphins and porpoises lost sense of direction owing to their communication pattern being affected due to noise from ships.
The study found three main sources (see box) – ships using sonar technology, seismic surveys, and the sound of various machines used by ships and vessels – as the cause of noise pollution under water.
"The growing stranding and fatalities of marine mammals off the Indian west coast are strongly attributable to acoustic habitat degradation. The marine mammals are known to use sound for biologically critical function and thus, over a period of time have developed very sensitive acoustic capabilities," said Arnab Das, author of the paper, former commander in the Indian Navy and director of the Maritime Research Centre. "Growing human activities at sea have significantly increased the noise in the ocean."
According to the Maharashtra Maritime Board, almost 30,000 large ships and vessels are identified every year along the entire Indian coastline, excluding smaller domestic ships (more than 400) and fishing boats. Of this, 65% are along the west coast.
"The traffic of large ships or vessels along the Maharashtra coast is not as much within the state boundaries (within 12 nautical miles) than what is witnessed in central government waters. At the same time, the exploration of oil is mostly done in areas identified as special economic zones. However, the data is alarming and we will consult the national maritime foundation to help study impacts on marine life before serious damage is caused," said Atul Patne, chief executive officer, Maharashtra Maritime Board (MMB).
Das said the frequency and speed of sound play a huge role in degrading marine mammal habitats as sound travels much faster in water (1500 metres per second) than in air (335 m/s). The study identified that frequency range of sonar signals was the highest at 5 kilo hertz (kHz) to 200 kHz; seismic surveys is beyond 200 kHz; and sound of movement of ships is below 1 kHz.
"Similarly, marine mammals have different frequency bands to communicate. While large sized whales like the Blue Whale use low frequency (300 Hz), dolphins and porpoises have high frequency (around 150 kHz)," said Das. "Once the noise source matches their hearing band, the sound begins to affect the species internally and their communication falls apart."
Depending on the proximity of these mammals to the source of the noise, minor to major injuries are caused, said the study. "More than 120dB can cause discomfort to these species, more than 170dB can cause serious internal injuries, bleeding and even hemorrhages, and noise beyond 200dB can cause instant death," Das said. "It is the need of the hour to investigate recurring deaths along the west coast and post-mortems need to be carried out considering the issue of acoustics and noise pollution."
While the International Maritime Organization (IMO) is yet to include noise as a pollutant in its 1978 MARPOL Convention, the Noise Pollution (Regulation and Control) Rules, 2000, do not have any standards for underwater noise.
"While there has been hardly any research regarding underwater noise pollution, it is a significant issue as marine mammals can only communicate based on sound. There have been countless examples of mammals losing their sense of direction that has led to their death, along the country's coastline. The Union environment ministry needs to issue safety standards for ships and vessels under noise rules," said E Vivekanandan, consultant and scientist, Central Marine Fisheries Research Institute.