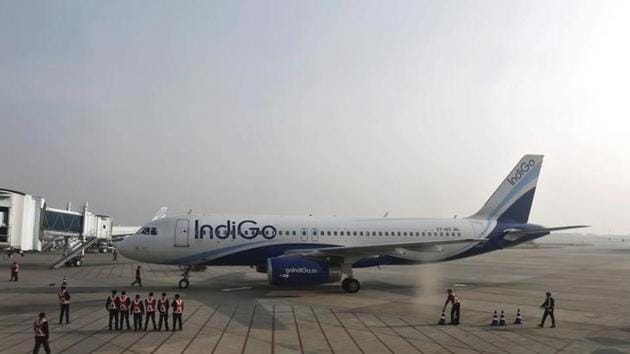 Engine failure forces IndiGo flight to make emergency landing in Mumbai minutes after take-off
The Bengaluru-bound aircraft had 183 passengers on board and landed safely on Tuesday night
UPDATED ON JAN 11, 2018 08:22 AM IST
A Bengaluru-bound IndiGo flight (6E 565) returned to Mumbai airport minutes after take-off, allegedly because of engine failure, on Tuesday night.
The aircraft, which had been delayed for an hour and took off at 11.30pm, had 183 passengers on board.
Almost immediately after take-off, the pilots got in touch with the Air Traffic Control (ATC) for an emergency landing. Airport officials said a full emergency was declared as soon as the ATC alerted the operator.
The aircraft landed safely, after which IndiGo put the passengers on another aircraft.
"IndiGo flight 6E 565 (BOM- BLR) faced a technical issue while it was airborne. Following the standard operating procedures, the pilots immediately took the precautionary step of returning to Mumbai for necessary checks. Another aircraft was provided to complete the flight," said an Indigo spokesperson.
The matter has been brought to the attention of the Directorate General of Civil Aviation, the aviation regulator, the airline said, adding that the incident is also being investigated by its flight safety department. "At IndiGo, the safety and security of passengers, crew and the aircraft are top priority, and at no time was it compromised," the spokesperson said.
Kris Lakshmikanth, who was on the flight and is a frequent flier on this sector, said: "Our take-off was not smooth. I could smell fumes, and there was a strange sound. Within 15 minutes of take-off, the pilot announced that we were returning to Mumbai because of technical reasons. We landed at a much higher speed than normal, and that made me worry for a few seconds that we were in deep trouble. But we landed safely, and all of us passengers applauded the pilot."
Passengers said they had to sit in the same aircraft for an hour before they were shifted to another one. Lakshmikanth said: "We boarded another flight and took off from Mumbai around 2am."
Close