Fire in Mumbai monorail train; no casualties, but services shut
Nov 09, 2017 02:54 PM IST
Train services on the nine-km route are likely to resume only by afternoon, officials said
A monorail train caught fire at Mysore Colony station in Chembur on Thursday morning. Services have been shut down following the incident, and are likely to resume only in the afternoon.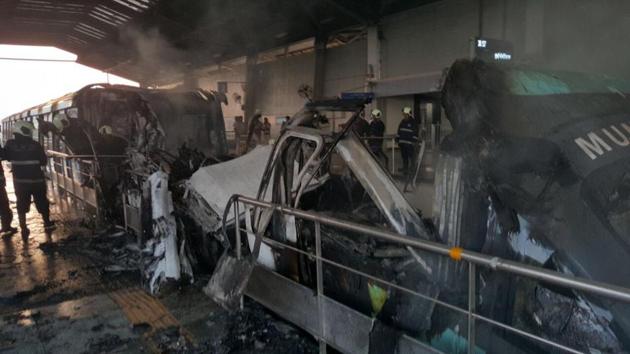 Disaster management officials said the fire broke out at 5.20 am and was brought under control in around 40 minutes. Three fire brigade vehicles were rushed to the spot to put it out.
As it was early morning, there was no rush at the station when the fire broke out. No commuters were injured.
Prima facie, it looks like the fire was caused by a short circuit, a fire brigade official said, requesting anonymity. Metropolitan commissioner UPS Madan has ordered an inquiry by an independent committee to determine the cause of the fire. He has also asked for a check on all operational monorail trains.
A statement released by the Mumbai Metropolitan Regional Development Authority (MMRDA) said fire broke out before services began at 5.30 am."The motorman noticed smoke coming from the last coach and called the fire brigade immediately. The fire was extinguished by 6am," Dilip Kawathkar, joint project director, MMRDA, said.
Currently, the city has one monorail line which runs along a nine-km route, covering seven stations, from Chembur to Wadala.