First test flight from Mumbai lands at Shirdi airport in 45 minutes
Updated on Sep 27, 2017 11:53 AM IST
President Ram Nath Kovind will Shirdi for Sai Baba's centenary celebrations that commence in October and will inaugurated the airport on October 1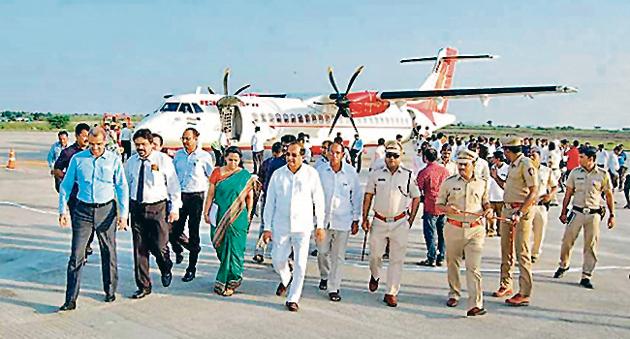 The first flight, part of the test run, landed at the Shirdi airport on Tuesday evening. An Alliance Air aircraft [ATR 72] took off from Mumbai at 4.15pm and landed in Shirdi at 5pm. The same flight took off from Shirdi at 6pm to and reached Mumbai at 6.35pm. The flight [9I 7500] took off from Mumbai international terminal .
Officers from Directorate General of Civil Aviation (DGCA), Bureau of Civil Aviation (BCA), Maharashtra Airport Development Company (MADC) managing director Suresh Kakani, Alliance Air regional director, Valsa Nair Singh, principal secretary excise and civil aviation and minister for protocol Ram Shinde were in the flight.
President Ram Nath Kovind will Shirdi for Sai Baba's centenary celebrations that commence in October and will inaugurated the airport on October 1.
"During the test run, we looked if the pilot was able to spot the runway, if there were any obstructions in the approach path and whether the aircraft was able to receive signals from the Air Traffic Control (ATC)," said Kakani.
MADC officials said thought the inauguration is on October 1, the DGCA is yet to approve the flight schedule. "The flights are scheduled to operate from Shirdi on October 29. We have requested the DGCA to prepone the dates," Kakani said.
Sources said before landing at the Shirdi airport, pilot was asked to take rounds to check for existing or potential obstacles.
Though the airport will be equipped with the night landing facility within months of inauguration, the airport owner [MADC] expects a footfall of 500 fliers every day. Besides from Alliance Air, TruJet and Zoom Air will be operating flights between Mumbai and Shirdi. The airport will see four flights to Mumbai and one each from Delhi and Hyderabad making it to have 12 flight operations per day. These will however increase once the airport gets equipped with night landing facility.
DGCA issued the aerodrome license to Shirdi airport on September 21. The airport that is located around 14km of South- west Shirdi, is spread across 400 hectares and it's runway is 2500 meters which makes capable to handle Code 3C type aircrafts such as Airbus A320, Boeing B737.