Gas leak or chest injuries: What killed 32-year-old man at Mumbai hospital's MRI room?
Hindustan Times |
, Mumbai
Megha Sood
Jan 29, 2018 12:49 AM IST
The Agripada police arrested a doctor, ward boy and woman attendant working at BYL Nair Hospital on Sunday after a 32-year-old man died in an accident at the MRI scanning department.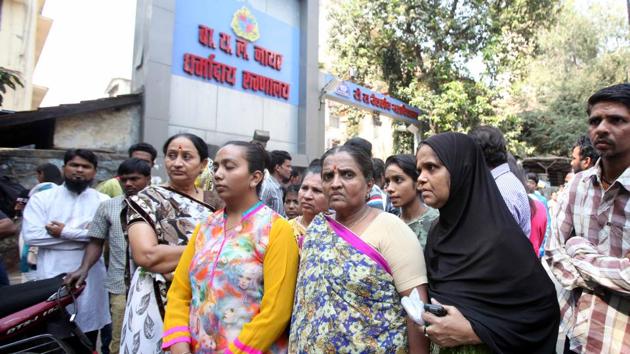 The resident doctor, Saurabh Lanjrekar, ward boy, Vitthal Chavan, and attendant Sunita Surve, were arrested for allegedly causing death due to negligence after the autopsy report of the victim stated that he died due to over-inhalation of liquid oxygen, said police.
According to the police, the deceased, Rajesh Maruti Maru, a salesman at a garment shop, along with his brother-in-law, Harish Gopal Solanki, had taken Solanki's mother to the hospital at 7.30pm on Saturday.
Savalaram Agavane, senior inspector, said that the incident occurred when they were shifting the patient to another stretcher inside the MRI room. "The MRI machine, which has a powerful magnet, was on, and the oxygen cylinder got pulled towards it. The cylinder fell on Maru, who was standing between the machine and the stretcher, crushing his hand."
Read: Mumbai MRI accident: Ward boy told us machine was switched off, said relative of deceased
Chavan and Solanki then pulled Maru from under the cylinder, after switching off the machine. Maru's index finger, in turn, got severed from his hand, said the police. "As Chavan pulled Maru, the tube of the oxygen cylinder got disconnected and began leaking. Maru inhaled a huge amount of oxygen, and fell unconscious," said Agavane. Maru was then rushed to the Intensive Care Unit (ICU), where he died a few hours later.
The police registered a case of death due to negligence under section 304 (A) of the IPC, based on the complaint filed by Solanki. Police said Solanki blamed the hospital staff for leaving the MRI machine switched on in presence of an iron object inside the room.
Meanwhile, CM Devendra Fadnavis announced a compensation of Rs5 lakh for the family of the deceased, said Mangal Prabhat Lodha, BJP MLA from the Malabar Hill constituency.