In Mumbai: NGO brings smiles in their garden of equal opportunities
Dec 19, 2016 08:54 AM IST
For the past 15 years, a Chembur-based non-profit group, National Society For Equal Opportunities For The Handicapped (NASSEOH), India, has been helping differently-abled persons find jobs through their therapy of gardening, landscaping and nurturing over 80 different species of native plants and 27 species of exotic plants at their vegetable and butterfly garden
As 24-year-old Amjad (name changed) carefully trims a bonsai plant, he has a smile on his face. Like many others around him, he loves his simple and beautiful life after being burdened with the challenges of being differently-abled.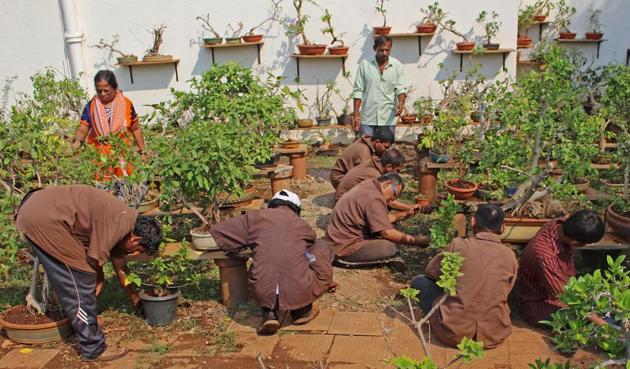 "I love spending time in the garden. The fragrance of these plants helps me forget I am not as capable as others. While helping them grow, I realise that I am not being judged," said Amjad, who will get employed in a civic body-run garden next month.
For the past 15 years, a Chembur-based non-profit group, National Society For Equal Opportunities For The Handicapped (NASSEOH), India, has been helping differently-abled persons find jobs through their therapy of gardening, landscaping and nurturing over 80 different species of native plants and 27 species of exotic plants at their vegetable and butterfly garden.
The NGO has also helped create comprehensive rehabilitation opportunities, free of charge for them through education, vocational training, placements, sports and recreation.
The NGO has been using nature as therapy to help them learn skills such as taking care of plants through pruning, cutting and planting saplings on their four-acre campus.
"We observed that persons with disabilities, after spending their day at gardens, have undergone several behavioural changes, so much so that they were ready to overcome mental blocks and earn a living," said Yogendra Shetty, director-general, NASSEOH adding that the beneficiaries are from the lowest strata of the society and are aged between 18 and 35.
He added that over the past 15 years, thousands had been rehabilitated by garnering different employment opportunities within Mumbai and other parts of the country. "More than 500 people have acquired green jobs through this programme that educates groups of 30 per day," said Shetty.
Along with working at a one-acre vegetable and bonsai garden home, a butterfly garden half its size was constructed last month with the help of NGO United Way Mumbai and Kharghar-based Ladybird Environmental Consulting.
"Within large concrete urban spaces, setting up of these small gardens is easy as they do not need large trees. They attract butterflies that directly impact the micro-ecosystem," said Prachi Nautiyal, director, United Way Mumbai.
Dr V Subhalaxmi, founder and director, Ladybird Environmental Consulting, said, "For the specially-abled, the low self-esteem or frustrations are eased through interaction with nature as it helps calm nerves, reduce blood pressure, anxiety through a 'feel-good factor' and introduce a positive feeling."
Leading the way Group teaches differently-abled people gardening techniques on their four-acre campus as part of therapy.
READ MORE
From green teams to e-waste schemes, Borivli society does it all