Madhya Pradesh cop fat-shamed by Shobhaa De thanks her for tweet
Madhya Pracdesh cop Daulatram Jogawat thanked Shobhaa De for tweeting his picture which helped him come to Mumbai for treatment after he was discharged on Monday after a weight-reduction surgery.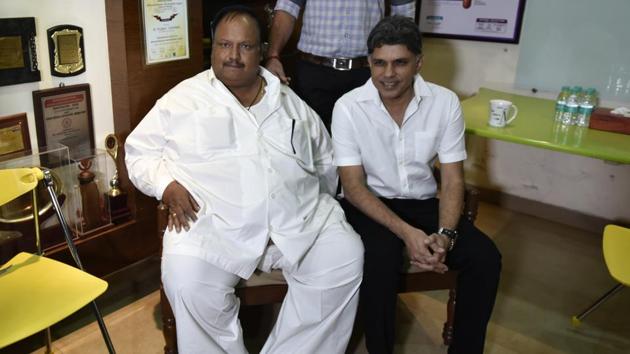 Updated on Mar 07, 2017 08:00 AM IST
Hindustan Times |
, Mumbai
Sadaguru Pandit
Madhya Pradesh cop Daulatram Jogawat has thanked Shobhaa De for tweeting his picture, which helped him come to Mumbai for treatment. He was discharged on Monday after a weight-reduction surgery.
Doctors said Jogawat, who weighed 180 kilos, would lose over 100kg over the next 18 months.
Jogawat underwent a banded Gastric Bypass Procedure (GBP) at Saifee Hospital, after which he lost about 3.5kg. GBP is a surgical procedure where the small intestines are rearranged, resulting in the reduction in the size of the stomach cavity. Jogawat had lost about 2kg before the surgery.
Doctors from the Centre for Obesity & Diabetes Support (CODS), headed by Dr Muffazal Lakdawala, said that Jogawat will be kept on a liquid diet and that of vegetables for a year and a half, during which he will lose over 100kg. The food will also bring down his blood pressure and diabetes levels significantly.
"We are looking at bringing down his Body Mass Index (BMI), which is now about 57, to 27-28. He can resume work after a month's rest," said the doctors. BMI - the ratio of a person's weight to height - is used to determine if patients are underweight, overweight or clinically obese. A BMI between 18 and 24 is considered normal.
Officials from Saifee Hospital said that Jogawat's treatment was done free of cost. "If the Madhya Pradesh government wishes, they can fund the cost of treatment but we are not charging the patient," they said.
Jogawat, thanking De for her tweet that attracted a lot of flak on social media, said he did not hold any grudge against her. "It was because of her tweet that I got the opportunity to come all the way to Mumbai for treatment. Honestly speaking, my weight never came in between my duty because I was physically active and had the brains to solve crimes. I was fairly rewarded for my work," said Jogawat.
De, on February 21, the day of BMC elections, had posted a photograph of Jogawat with the caption, 'heavy police bandobast in Mumbai today' and faced heavy backlash. Jogawat later explained that his weight issues aren't due to overeating but because of insulin imbalance after a gall bladder surgery in 1993.
Eman Ahmed vs Daulatram Jogawat: Two obese patients with different treatment
MP cop fat-shamed by Shobhaa De undergoes tests in city hospital
Close Story